Don't cry for New City, Edmonton, it's the cycle of life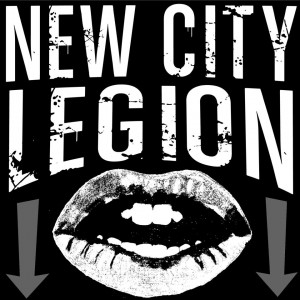 If you go back about 25 years to remember Edmonton's best live music bars, the landscape is unrecognizable: People's Pub, the Grinder, Boiler Lounge, Sidetrack Café – all gone, their very names meaningless to younger folk perhaps more familiar with places like the Starlite Room or the Pawn Shop.
Point being that the recent closing of the New City Legion is just one event in a cycle that's been running for a long time: Lamentable yet inevitable. Edmonton only seems to be able to support about 25 live music bars at a time (including ones that have cover bands) and it has been like this, with perhaps a bit of a decline, since Edmonton's live music heyday ended in 1980 or so. (A lot of things happened to kill it: Trudeau's National Energy Program, smoking laws, drunk driving laws, AIDS, VLTs, the DJ as entertainer, and so on; for more on the good old days, read what Tommy Banks has to say). In short, the club scene changes all the time. Some places barely last a year.
The details of New City's demise are familiar. On Friday, April 12, out of the blue, the doors were locked and staff was informed that they don't have jobs anymore. Manager Terry Ann England, whose name appears on a rent default notice taped to the door of the off-Whyte club (which was its third location in at least 20 years), didn't want to make a comment, but confirmed all the same, "We are done. Huge rent and a slow winter, among other things, did us in."
It was about money for the late and lamented Sidetrack Cafe, too, which even young people in Edmonton ought to remember because their dads probably still talk about it; owners wanted to build condos on the original 112 Street location, and so they did (though when you look at the place now they totally could've worked around the existing building). An attempt to move the club didn't work out.
Some locals are still mourning the Sidetrack. Edmonton musician Bobby Cameron says the city should've even stepped in to save it.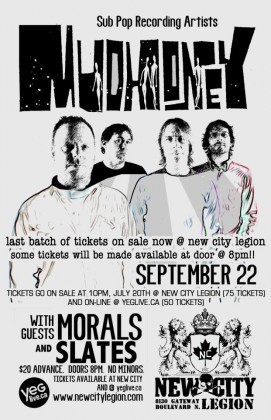 "When we lost it the scene died," he says. "It sent a message to me to put down the guitar and get a trade. I didn't, but that's another story. Our talent pool here is world class but a scene can't survive when we lose a major artery like the 'Track. The Horseshoe in Toronto will still be there long after the world takes its last spin around the sun."
Don't count on it, buddy.
What's clear is that live rooms in Edmonton, and elsewhere, operate on a thin margin, at the edge of the already volatile and cutthroat food and beverage industry. One unexpected tax hit, one flop show, or one rent increase can sink a worthy room. To become a top live venue in Edmonton is a tremendous challenge. It requires consistency and patience, and deep pockets, and hopefully something more than just a desire for money.
Wunderbar owner Craig Martell says he admires New City's owners for lasting this long, adding, "If I owned a tire store that made as little money as Wunderbar, I would have closed it within six months. You get by on the feeling that you're doing something worthwhile and important."
Simple formula: Good shows draw fans and build your reputation for putting on good shows that draw fans, and so on – and you're the new Sidetrack Café. Many live bars operate these days as rental venues: An outside promoter assumes some if not all the responsibility for the show itself. The bar just hopes people will show up to drink. But even with all the complaining that musicians are getting a raw deal, it's the club owners who can really get murdered.
Even successful venues are checkered with drama. The Starlite Room has endured a saga of obstacles and name changes over the years – The Bronx, the Rev – to get where it is today: Edmonton's premiere middle-sized live music bar.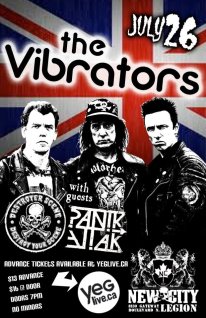 Maybe the city should step in to save great live music venues about to go under. Now we're missing the New City – where Eddie Vedder jammed with Mudhoney after Pearl Jam's show – and still without any 1,500-plus capacity live bar since the Edmonton Events Centre shut down in January; people are also still stinging for the closing of a cool little singer-songwriter venue called the Elevation Room. So this is all a little worrisome. But what's going to happen now is predictable: a stronger buyer's market. Shows that would've happened at New City will try to go somewhere else, the talent pool and the fan base will be concentrated, and as a consequence some of the remaining live rooms will prosper from the loss. And then new venues will spring up and the landscape will change again.
Putting out the question: "Name a local music venue 25 years ago that doesn't exist today" on Facebook drew lots of responses, a long list of cool clubs that don't exist anymore. Focus on five year chunks and the number seems to stay about the same. To name just two: The City Media Club, the void since filled by the Blue Chair Café; and The Ambassador Hotel blues bar where Muddy Waters once played – while Blues on Whyte is the place for blues in Edmonton today. Incidentally, Spartan Men's Club – a popular punk rock bar that can be compared to the modern day Wunderbar – occupied the same space in the Ambassador after the blues went out of business.
Martell, who wrote an entire essay in response to the Question of the Day (read the whole thing here), offers a hopeful note, pointing out that the bars that were relevant to one generation might not mean so much to the next, who have new places to see their favourite bands. Martell says, "The interesting thing is that everyone seems to be remembering the past ideally and looking at the present through shit colored glasses."
Even so, he delivers a touching eulogy, "Let's get together and mourn New City as it should be mourned. By doing so we're mourning the Sidetrack. We're mourning Rebar. We're mourning the Spartan. And support your current venues so that we don't have to have this discussion anymore … Maybe a venue that runs a legit, fair, passionate club that exists solely to provide a medium for passionate and creative people has a unseasonable snowball's chance in hell of surviving in this dustball of a city."