EXTREME METAL REUNION: Disciples of Power rise again
Posted on April 17, 2013 By Kevin Maimann Entertainment, entertainment, Front Slider, Music, music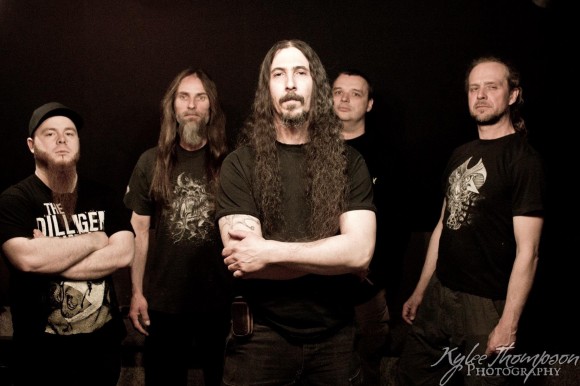 It's hard to believe there was a time when an extreme metal band from Edmonton could get on television.
Disciples of Power first hit the MTV and MuchMusic airwaves in 1989 with "Crisis," a thrashy technical-death metal number denouncing environmental degradation, from its debut album, Power Trap. The coming years saw the band relocate to different Canadian cities for months at a time, building pockets of loyal fans with a unique sound that drew from such disparate influences as Discharge, Destruction and Rush.
Disciples of Power opened for the likes of Anvil and D.R.I. while influencing hordes of head bangers who had never experienced such sophisticated sonic annihilation.
On Friday, Edmonton's metal scene will shake again as the Disciples of Power ends its 10-year hiatus to play Pawn Shop Live.
"The band kind of ended on a sour note, you know what I mean? It kind of fell apart, and those last chunk of shows that we did (didn't go) very well," says drummer Dean Relf, who co-founded Disciples of Power in 1987 after playing in various punk bands. "It should have ended a lot differently."
Relf remembers substance abuse problems plaguing some of the band members, along with other personal issues and a breakdown or two. It didn't help that its record label, Fringe Product, folded in the mid-90s. After its fifth and final album In Dust We Trust, the band "burned out" and split in 2003. Bassist Andy Smith and frontman Hart Bachmier resigned, while Relf and guitarist Wes Sontag switched focus to their new project called Section VIII.
Bachmier, the band's singer, guitarist and main songwriter, stunned former fans when he later publicly renounced Disciples of Power and the genre that consumed so many years of his life. In consecutive Spring 2010 issues of Vue Weekly, he posted the following ad: "I, Hart Bachmier, officially end my band Disciples of Power. There will be no more CDs or shows ever. Sorry if I corrupted you with my evil music. Give glory to God and forgive me."
Bachmier will not be part of the reunion. While Relf wishes his old pal could join him on stage Friday, he says Bachmier gave his blessing to reassemble the band last fall. "It wouldn't be happening without his approval," Relf says. Bachmier will also receive a portion of ticket and merchandise sales from the band's upcoming string of shows.
"I still consider Hart one of my best friends. It's just we don't see eye-to-eye anymore. It's like talking to a different guy. But I wish him the best, and everybody in the band does."
Relf says spats that happened surrounding and following the breakup are forgiven and forgotten – "Is it really worth being pissed off for years and years and years?"
Taking Bachmier's place is vocalist Shane Hawco (Thorazine, Wake, Exit Strategy, Section VIII), who filled in on live vocals for stints in the mid-90s, and the new guitarist Ben Harbak (Acantha, Begrime Exemious, The Noumenon). Hawco met the band at a Calgary show in '91 and did artwork for their albums Invincible Enemy (1993) and Mechanikill (1996).
"I saw them on MuchMusic and whatnot, so I was like, 'Ah, they're coming to town, I'll check them out.' And next thing I know it's like, holy shit, these guys are incredible," Hawco recalls.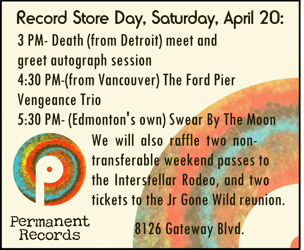 He has watched Alberta's metal scene grow exponentially since the dawn of Disciples of Power, but the band's immense impact has stuck with him.
"There's a lot of different power metal bands, grind bands, black metal bands, all different kinds of genres. And I think what does it for me is the bands that kind of define their own path. D.O.P. kind of did that back in the day," he says. "They didn't sound like anybody else … D.O.P. was the trend setter."
Harbak, the band's youngest member, says it feels "surreal" to be part of the band.
The new Disciples of Power lineup is rounded out by Sontag, who joined in '91, and co-founding bassist Chris Chapman, who left in '91 and is returning for the first time.
All five albums of complex, tempo-shifting metal wizardry will be up for sale Friday, with download codes going for $5 apiece that will also get you the original artwork and lyric sheets. With more shows lined up in Calgary and Lethbridge, Relf says the band has no plans to make new material without Bachmier.
"We're just going up there to have some fun again, man. It's been a while," he says. "A lot of years later we decided it was probably time. We're not getting any younger."
Villainizer, Display of Decay, and Kataplexis will open Friday's show. Advance tickets are $15, on sale at YEG Live.