Moving to Edmonton will get you into the Velvet Underground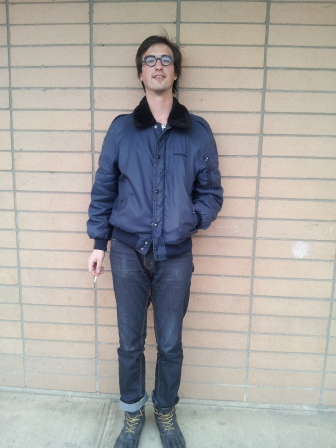 Growing up in Beaumont, Alberta, a Francophone farming community of 14,000 located three kilometres South of Edmonton, Brazilian Money's Garrett Johnson remembers listening to Velvet Underground for the first time.
"I thought it was total garbage," he says.
So how did the Beaumont musician end up appreciating the context and musicality of Lou Reed's legendary garage art rockers, as required by law for all serious musicians?
"Moving to Edmonton," Johnson replies with a laugh, during a recent interview over pints at Plato's Pizza. "That was the big city. People that wanted to get out of Beaumont went to Edmonton. Nobody went to Vancouver."
Edmonton is, technically, a pretty big city. There are, like, a million people here, right? But as far as the music community in Edmonton goes – it's still a small town. Everybody knows each other, and if you're not from around here, you probably don't know anything about it. A lot of Edmonton musicians grew up in even smaller towns, in places like Beaverlodge or Hinton or Spruce Grove, and moved to "The City" to realize their dreams.
Johnson learned about music the way most people in small towns do – his family. For the unlucky, it was Gary & Sandy; for the more fortunate, it was your older siblings' record collection, or like Garrett, his dad's old T-Rex, Deep Purple and Led Zeppelin albums. Trooper, too. Then the Internet came along, and everything changed. Former drunk petulant child turned multimillionaire Lars Ulrich blathered to America about how it was wrong for people to "steal" his "art," and people like Johnson, once relegated to the sidelines with nary a record store in sight, could finally listen and learn.
When Johnson made the move to Dirt City in 2008, it was an eye-opening experience. It was in Edmonton he heard Matt Perri, Sean Nicholas Savage's "Summer 5000," Southside Riots and the Subatomics.
"Holy shit," Johnson says, "There are people here making this music. I want to know these people."
Johnson went through the obligatory Dylan phase, then started a band called The Yacht Club, which he describes as "Stevie Ray Vaughan mixed with my take on the Subatomics and Jet."
Between touring North America with local soon-to-be-legendary weirdos The Wicked Awesomes and playing bass in The Mitts – Edmonton's tightest garage band – Johnson studiously recorded material at home. Featuring a rotating cast of musicians, "Friendly Neighbor" was the first Brazilian Money EP. Their first show was in 2010 at the off-Whyte venue Baby Seal Club.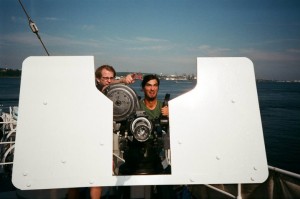 The band is working on a full length album, of sorts. Hopefully out this summer, it will be a collection of new and new-ish material that includes some of Johnson's extensive solo recordings. He cites a surprising inspiration: "Capital FM has been helping me out a lot lately. I've always loved old soul and really groovy, tight music: but it's never been forced on me. At the moment, I'm also more interested into crazy changes and guitar parts … trippy shit."
If you've seen Johnson and the various bands he's played in over the years, you should know he displays a devilish ability to craft weirdly simple pop nuggets, again and again and again. Largely by himself, Johnson's recorded too many songs to list. For a 23-year-old musician, to not worry about running out of material is a rare thing. He says he doesn't know where it comes from.
While he's only been here five years, he has some clear thoughts about Edmonton's music scene. "Edmonton bands are pretty modest," Johnson says. "People aren't trying to prove anything, whereas bands in other cities may be more serious about being in a band. In bigger cities, there are always first or second-degree relations to some hope of making it. In Edmonton, most of the time it's just not on your mind."
Edmonton is in a bubble, he agrees. We're way up North, and separate from the scene in, say, Vancouver, or even Winnipeg. Being in a bubble means people are willing to try new things.
"It's crazy how open people are to listening to the weirdest shit," says Johnson, who brings up people like Max Ulich, Phil Dickau, Zebra Pulse and other people associated with Parker Thiessen's Ramshackle Day Parade, a local collective specializing in "noise," which is a recognized genre of music. "There's freedom in Edmonton. You can book a show and do something different. There's no pressure and a freedom to try new things."
Some of the fellows who helped Johnson become part of the creative class in Edmonton are gaining notoriety and recognition across North America and the world. Just visit Pitchfork for daily updates from Mac DeMarco or Peter Sagar's Homeshake Project, check out Weird Canada for the latest gems from Sean Nicholas Savage. These are cats from Edmonton making it big. Let's not forget Cadence Weapon, either, the local rapper who was named our Poet Laureate in 2009.
Johnson says he's excited that his peers are succeeding on a broader field. The key to success, he says, is not being afraid to put your music out there wherever and whenever you can.
And what is "success" for Johnson?
"I want to make 40 grand a year for the rest of my life," he proclaims. "Well, maybe 50."
Brazilian Money will appear at the Hot Plains Music Festival over the May Long weekend. The inaugural event is another festival-showcase of local bands, from hip-shaking anthems of the Wet Secrets to shirtless smooth jams from Renny Wilson, happening at Wunderbar and the nearby hipster men's hair stylist, Barber Ha. Advance passes are $40 and on sale now.