Van Wilmott under no pressure to revive the past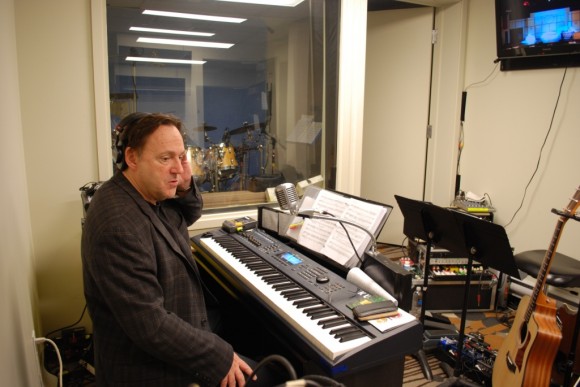 An astounding thing is discovered in talking to Edmonton music guru Van Wilmott to mark his 20th year of producing musical theatre for the Mayfield Dinner Theatre – there isn't a trace of his old band Grace Under Pressure on the Internet.
No photos, no videos, no music, just a little entry in the Canadian pop encyclopedia and that's it. It's as if the band never existed.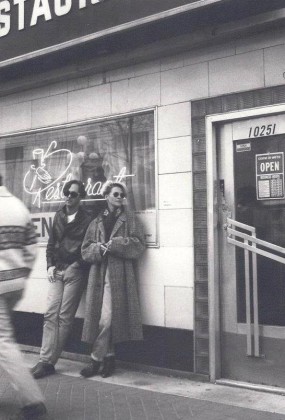 It's a glaring oversight considering Grace Under Pressure's reputation as the royalty of the Edmonton music scene in the '80s, and one the greatest "almost made it" sagas of all time. Long story short: In 1989, they were offered a record deal by Warner Music Canada, but held off to check interest from Sire Records US (also part of the Warner family). Label boss Seymour Stein himself came to Toronto to see check out two hot prospects showcasing at the Horseshoe Tavern. One was Grace Under Pressure.
"The other one was Barenaked Ladies," Wilmott recalls. "They'd already made a record and sold 100,000 records on their own. So it was a no-brainer. So that deal never happened for us. Warner America passed. And then Warner Canada got soft – and then there was no deal."
And that, apparently, was that.
In hindsight, he adds, "Maybe we should've made the record first and then shopped for a deal."
Young musicians may wonder: what is this "record deal" of which you speak? But never mind. Wilmott and writing partner Lin Elder wound up recording at least a couple of dozen original songs. None of them were ever released. The unmixed two-inch analog master tapes are around "somewhere," between their two homes and Louis Sedmak's recording studio, but Wilmott has been far too busy. Since he got a cold call in 1993 to be musical director of a Stage West musical going up in Calgary, the keyboardist-arranger-composer has thrown himself heart and soul into his work, as he has always done – and disappeared from the scene. Completing his transition from live musician to hardcore theatre guy, he married Kate Ryan, of the Ryan Dynasty (including the late theatre guru Tim Ryan and Citytv's Bridget Ryan). They met in 1995 when Wilmott was auditioning her for a Mayfield musical, as it turns out.
She also stars in the show currently running: "9 to 5."
Messed up by the Beatles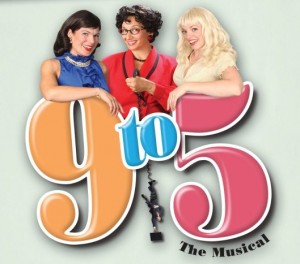 Wilmott has been the Mayfield Dinner Theatre's musical director for two decades now, the last six years as artistic director, responsible for picking and producing shows that make money. There have been many. That the theatre is still here is proof enough. Wilmott spends countless hours preparing material in recording studios and creates at least one original work a year. The last of note was the Beatles musical "Four Lads Who Shook the World." Edmonton's biggest Beatles fan was "messed up" by the Fab Four at an early age, he says, once played in a Wings cover band called Wingspan, and attended both of Paul McCartney's recent shows in Edmonton, the first with his 13-year-old daughter, the second with his buddy Sedmak. Front row.
"I lost my hearing for a half a day from the pyro in Live and Let Die," he says.
In the run-up to a big musical like "9 to 5," it's not uncommon for Wilmott to spend a month of 18 hour days at the Mayfield. And so he doesn't have time to think about the past, about Grace Under Pressure.
The 55-year-old producer is just put the finishing touches on Dolly Parton's hit musical for opening night when we meet at the soon-to-be-Hilton Mayfield for a long interview over lunch. Asked about reviving Grace in some form, he replies, "You never know! You know what? You're at that age, and you hate to say this, but there are people who are no longer alive, like Brent Macnab. People pass away and you scratch your head and people say, 'there should be a record of what you guys did.'
"I'd like to have some archival material released. We still have it. It's on tape somewhere and it's in our heads." Analog tape does degrade over time, so they'd better hurry, "Before it falls apart," Wilmott laughs. "It might be too late for that, we'll see."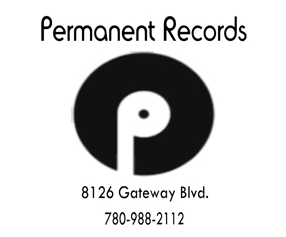 His apparent lack of concern is telling. It's hard to imagine Wilmott getting flustered over anything. Inside the Mayfield theatre orchestra "pit" – which is actually a sealed room above the backstage, from where the musicians have a video linkup with the actors on stage – Wilmott calmly answers questions while he works, occasionally pausing to tweak the timing of some pre-recorded Dolly Parton narration or horn part. (One usually encounters Wilmott in a roomful of gear.)
There's a lot riding on a smooth show that night (though on a long run, until June 9, it's not as big a deal), but he is unconcerned. He makes it look easy. Walking from the theatre to the restaurant, Wilmott greets every single person we meet by name, with time and a kind word for all. He talks freely about his many unusual musical adventures: He was the studio keyboardist for the Emeralds' million-selling "Bird Dance" recording. He played with Roger Whittaker. He toured with popular '80s showband Nick Danger on the "Lock up your Livestock" tour. He and Elder went to the Middle East to entertain the troops. He worked with Paul McCartney's guitarist Hugh McCracken, did studio work in London, New York and Toronto, composed soundtracks for Disney documentaries, you name it, the list goes on and on. It is an odd career shot through with schmaltz and riddled with seemingly arbitrary choices. Grace Under Pressure stands out. But never once does Wilmott come off like he's blowing his own horn. He calls himself "the worst jazz musician on the planet."
If he needs a horn player, he'll hire one.
Asked to put in a good word here, Lin Elder enthuses, via Facebook, "A genius! Savant! I mean he couldn't change a tire, but Van without question knew his way around a song. He was so much like a 'John Lennon.' Admired melody. Admired creating it. Got lost in the beauty of it. Van and I would write for hours and hours … Grace Under Pressure was an innovative project. Well ahead of its time."
Too much for Much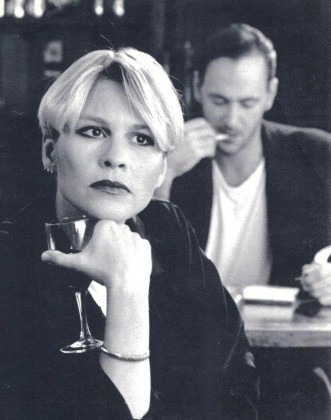 A lot of the buzz around this band came from the music video for "Belli-to-Belli," the production provided as part of the prize for wining K-97 radio's "Homegrown" contest in 1988. The late Gary McGowan was the station's program director at the time and wound up being the band's manager. With a rotating cast of backing musicians that included Mike Lent, who plays with Jann Arden, and the other lead singer Nancy Powell – and no drummer – Grace Under Pressure "became the club band that you wanted to see," Wilmott says. They never toured seriously, but the band was a popular draw at three local bars, he says: the Boiler Lounge, Andante's and the Sidetrack Café. "It was also kind of an alternative band. We had a huge gay following."
This was made clear in the Belli-to-Belli video – where a lesbian seduction, nothing more, is depicted. Long before Calgary's lesbian twin sister pop superstars Tegan and Sara came of age, this was a bold statement. It was also too much for MuchMusic at the time, Wilmott says, and so the video was yanked off the air.
"It was because the video was suggestive," he says. "I asked (former Much VJ) Terry David Mulligan. I saw him one time at the Boiler. We were playing there and I asked him, because we got strong rotation on the video and all of the sudden, boom, it was gone. And he said it was a little too risque. It was clear that this girl in the video was going to be picked up by this other girl."
Mulligan, now 70 and host of the show "Mulligan's Stew" on CKUA every Saturday from 5-7 p.m., says he doesn't remember the incident clearly, "But it was the content, I think."
Times sure have changed. Wilmott displays no malice against MuchMusic or anyone else. Asked to imagine the uproar if such a homophobic decision was made today, he just laughs, "Yeah, that would be crazy."
Elder, who has since moved to Calgary to pursue a solo career, agrees, "Like I mentioned, Grace was well ahead of its time. It's just so normal now."
What happens when you stick around
Talk turns to Edmonton and the burning question: With your great gifts, why didn't you get the hell out of town? Wilmott admits it had crossed his mind.
"That dialogue will always happen: should you move away? Usually that decision is made for you. For every 100 guys who are in a band when they're 19 or 20, a few years later most of them aren't doing it. They become weekend warriors, or there's peripheral stuff. You can keep connected. So you stay here. It never really occurred to me to leave – it occurred to me to leave the business."
From falling in love with the Beatles at age five to spending all his money as a teenager on a Mini-Moog and other synths, and becoming a hardcore prog rocker – "I didn't get my driver's license until I was 27" – at some point there he realized he'd have to make a living. Medical school was an option, but the music gigs kept coming, one after another, disparate, varied, some high profile, some not, spanning all genres, some for pure artistic motivation, some just for money. Whatever it was, as long as Wilmott was either composing or arranging or recording something every day, he'd be happy. If he doesn't, "I get grumpy."
It's a bit ironic that while he's enjoyed the fruits of government funding over the years, including a Canada Council grant for composition, the dinner theatre gig he's spent most of his life on is 100% private sector.
"Theatre was the furthest thing from what I thought I'd be doing," Wilmott says. "And I love it, but the one of the reasons it works having a musician run a theatre, as opposed to a theatre guy, is that we're a commercial theatre. There's only one reason we exist, just like Broadway: To put bums in seats. The day this theatre stops making money is the day it becomes the nicest bingo hall in town. As much as I've learned to love it, it's not my first passion. Music is. So I can make all the decisions based on the business."
So how about an original musical based on Grace Under Pressure music? It's been suggested before.
Wilmott says, "Whatever that story might be, and it wouldn't be about the band, but about the kinds of things we wrote about in our songs, I can see that happening sometime. I would love to do that. I really like the library that Lin and I carved up together for those years. I'm glad we did that and I'm OK with what happened, but it would be nice to properly record these things or touch them up and actually have a couple of CDs worth of material. I hope they see another life. I'm going to be here for a while."
And here's a start …
Grace Under Pressure photographs courtesy of Lin Elder