John Cleese to visit Edmonton before he dies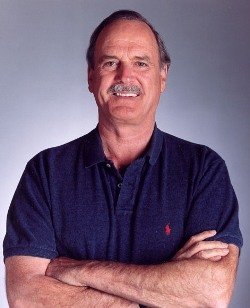 At least John Cleese is up front about his farewell tour. It's called "Last Time to See Me Before I Die." Monty Python's Minister Emeritus of Silly Walks, now 73, will appear at the Myer Horowitz Theatre Oct. 4-6. Tickets are $83.25 and go on sale Friday. The presale is on now.
It's a lecture tour, taking a cue from such people as William Shatner and Gene Simmons and 19th Century British explorer Henry Morton Stanley. Cleese will "regale fans with stories and exclusive clips from his illustrious 40-year career, before submitting to an extended questions and answer period with members of his audience," reads the press release.
Since Python's glory days, Cleese has mainly made a name for himself in Hollywood comedies whenever they need a wry, lovable British person with a dark sense of humour to balance out the various Adam Sandlers and Keanu Reeveses that generally star in these things. Cleese's credits for voice work in animated features are too numerous to list – but they include the Shreks 2, 3 and 4. He's been Oscar-free up to now, but most fans agree that most of Python's work still holds up today; some consider Cleese's short-lived TV series Fawlty Towers his greatest achievement.
"Ah, wonderful! Wunderbar! Please allow me to introduce myself, I am the owner of Fawlty Towers. And may I welcome your war… your war… you wall… you all… you all, and hope that your stay will be a happy one. Now, would you like to eat first, or would you like a drink before the war… Ah! Er… trespassers will be tied up with piano wire… SORRY, SORRY!"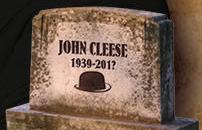 The Just for Laughs people producing this tour delare that Canadian comedy fans cannot afford to miss "a once-in-lifetime, John's specifically, to get up close and personal with a true living legend before he, you know, dies."
Very funny. This from the guy who came up with the dead parrot sketch.
"He's pining for the fjords!"
Should Cleese decide to tour again after "Last Time to See Me Before I Die," he can always use this title for a sequel: "Not Dead Yet!"