SHAMELESS SELF PROMOTION: GigCity wins arts Yeggie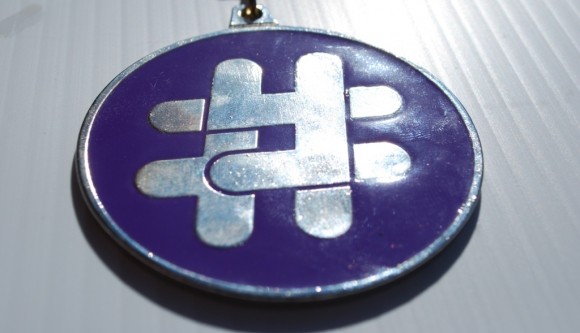 GigCity is honoured to have been named "Best in Arts and Culture" at the first annual Yeggies – the Edmonton New Media Awards.
The prizes were handed out on May 5 at the Shaw Conference Centre for a crowd of savvy social media enthusiasts, who enjoyed a multi-media show produced and emceed by Trent Wilke – a local playwright and journalist who is both a one-time GigCity subject and contributor. Occupational hazard in Edmonton, the wearing of so many hats.
"I find it funny how often we run into ourselves," said GigCity editor Mike Ross, accepting the evening's first medal emblazoned with the symbol of the Twitter hashtag, in keeping with the Twitter-friendly theme of the evening. There was even some Facebook-bashing from comedian Liam Creswick, who performed a short set.
On the plus side, most of acceptance speeches were short.
Other winners included the Edmonton Journal's star columnist Paula Simons, named Best in Political or Current Affairs. She said that for someone who actually gets paid to do what she does, it's "a special honour to be allowed to play in your sandbox." The colourful "Kikki Planet," better known as @KikkiPlanet, was named the Best Twitter Persona. She has tweeted almost 100,000 times since joining Twitter three years ago and has a tenth as many followers. After a kooky acceptance speech giving kudos to all present for leading the wave of the future, or words to that effect a bit longer than 140-characters, she left the stage and shouted, "Fuck, yeah!" Tweet that.
The cash bar did good business.
Taking the penultimate award of the evening, Best in Edmonton, was a no brainer: local rock star blogger Mack D. Male, aka @mastermaq. He kept his speech short, too, and likewise deflected attention from himself to all others present, along with all the interesting stories to report on around Edmonton. It makes being "blogger" a lot easier.
Ross teed off on the word earlier, "I hate the word blog, especially as a verb. It sounds like something very personal and slightly disgusting you do in the privacy of your bathroom. Excuse me, I have to go blog … 'Content providers' isn't much better. I'd like to think of everyone here as communicators, journalists … deserving of respect as much as any writer for the news-papers. Maybe one day."
Yeggies Winners
Best in Edmonton: Mastermaq.ca (Mack Male)
Best Twitter Persona: @KikkiPlanet
Best in Arts and Culture: GigCity
Best in Political or Current Affairs: Paula Simons
Best in Sports: OilersNation
Best in Food: The Kitchen Magpie
Best in Family or Parenting: Attack of the Redneck Mommy
Best in Fashion & Style: Adventures in Fashion
Best in Humour: Inglorious Hipsters
Best in Non-Profit: Coming Out or Showing Support
Best in Business: ACME Meat Market