Art imitates life in R-rated puppet show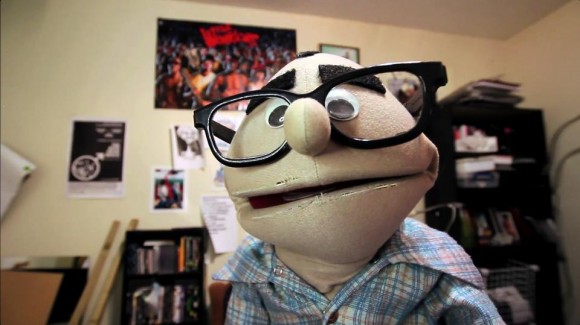 A boy is caught masturbating by the girl of his dreams, a girl loses her virginity to a guy she isn't sure actually has a penis, a man's girlfriend is into "ass play" not her own – all this and more true tales are depicted by in a new Bite-TV series called "Felt Up." By puppets. Adorable, fuzzy, Muppety puppets.
That so many subjects were willing to reveal their embarrassing sexual secrets through the art of puppetry says a lot about a modern society that encourages the sharing – or tweeting, depending – of intimate thoughts with millions of total strangers. But maybe it says more about puppetry, an ancient and mysterious form of communication. Puppets are creepy. Puppeteers are creepier, at least the image we've been fed from Hollywood. "Being John Malkovich" and "Magic" are just two famous films in which puppeteers are depicted as extremely unpleasant characters, if not psychotic serial killers, and let's not even discuss Elmo.
It's because puppets have a special power: They can say things their human controllers could never say in real life. Think of the racist slime comedian Jeff Dunham gets away with through his creepy puppets.
Felt Up's puppet stars are cute. Creator Simon Glassman compares his show to "the feature version of the 'Tell Me Where the Person Touched You' doll. But more positive, I guess."
And while it's definitely a puppet show for adults, "The best thing about our show is that nobody's going to be titillated by it, no matter how dirty or gross or sexual it is. I can't see anybody getting sexually aroused by the puppets."
The central character is Glassman in puppet form: Simon Puppet, who acts both as interviewer and participant as he collects explicit stories from his puppet friends for his puppet vlog. Art imitates life imitates art.
"I love Simon Puppet," says Simon Human. "I have him in my office right now. He's kind of my favourite character – not to blow smoke up my own butt, but he's weird and he's really transient. When a character's in a bath, Simon Puppet pops up in the bath wearing goggles. When someone's having sex, here's there watching it, being a big weirdo."
The idea started Glassman when was studying motion image technology at Grant MacEwan University, where a "defiant reaction" to a school assignment has since turned into a big deal. Once he found a number of eager subjects – including friends like the Edmonton comic buddies Jon Mick and Craig Martell – Glassman's mom sewed the puppets and he and his cameraman went to work. The result was a sensation, winning an international award at the Banff World Media Festival in 2010. An offer from Bite-TV came shortly after.
"And within a couple of months, it was television show," Glassman says. "It's amazing how fast it happened."
Once word of this unusual X-rated puppet show got out, there was no shortage of volunteers offering to share their humiliating misadventures. Too many, in fact.
"I get emails all the time. People will literally come up to me on the street and tell me a story about the time they fell asleep giving a blowjob," says Glassman, who admits he would never dream of being so forthcoming with his sex life. Besides, he has Simon Puppet to take the spotlight for him.
"I can't speak to the motivation of the people who tell the stories, but it's really cool to have something happened to you be dramatized by puppets," Simon Human says. "It's kind of amazing. But at the same time, at what cost?"
Ask the puppets. They'll tell you the truth.
The premiere "sneak peek" of Felt Up airs May 10 at 8:30 pm on Shaw channel 107 before going live on the web May 13. The rest of the episodes will air on real TV this fall – "and we have lots more stories to tell," Glassman says happily.