Fringe festival to tee off on James Bond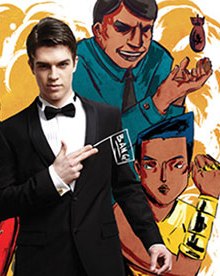 And the Fringe theme of the year is … Bond, James Bond.
Doesn't "From Fringe With Love" open a whole can of fun and adorable worms – the classic Bond film from 1963, made at the height of the Cold War. Fringe themes rarely coincide with actual content of the plays – but the fact there are so many plays, more than 200, means a bunch of them will invariably fit. Producers of plays dealing with love or spies or both should at least be happy.
The 32nd annual Edmonton International Fringe Theatre Festival happens Aug. 15-25 at venues around Old Strathcona and elsewhere (there being more Bring-Your-Own-Venues than theatres under the official Fringe umbrella).
From humble beginnings and numerous themes from Frankenfringe to The Fringe That Roared, the event has grown to attract more than 100,000 audience members to the indoor theatre. Outdoor attendance, meanwhile, is hovering around the half million mark – giving the Capital Ex festival or whatever it's called a run for its money. K-Days. It's called K-Days.
Never mind. Back to the Fringe, organizers teased the public with details at the annual press conference Tuesday. The theatre festival has been targeted by "SPECTRE-U," which stands for "Special Executive for Comedy, Tears, Renegades and Entertainment – Unjuried and Uncensored!" (Shouldn't that be SECTREUU?)
As they don't take any fees from the thespians, Fringe Theatre Adventures will again be soliciting donations from the public. This year it's called the "From Fringe with Love Spy Agency Membership Campaign." You can be an informant (free), secret agent ($25) and special agent ($50 and up) – with "gadgets" awarded at each level. Sign up here.
Things are always being fine-tuned, so there are changes: An expanded beer garden here, a reorganization of food vendors there, a new "app" for savvy Fringe-goers, and a bigger patio for people who need a break from the madding crowds. What hasn't changed is the goal: To present as much uncensored theatre as possible, in as many theatres as possible. SPECTRE-U! Given the expansion of the BYOVs beyond the first 26 letters of the alphabet, it certainly seems that way. There is no way any human could possibly see every single play, which is why – out of any event in the entire year – the legion of local entertainment journalists-turned-theatre-critics becomes so important.
Details on the plays will be released in the weeks to come.