Surviving punters assemble first and last Joe Bird album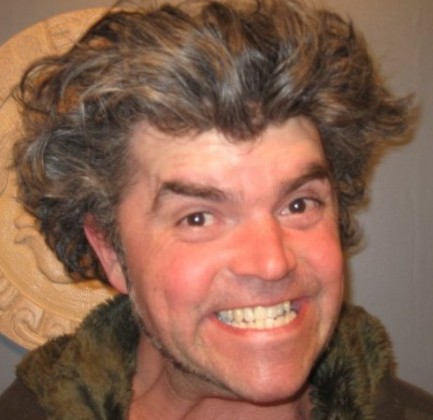 If you believe in life after death, you could imagine Joe Bird in heaven laughing at his friends left to deal with all the recordings he made before he died suddenly in 2009 – music that was never released.
His good friend Jason Kodie knows what he'd say: "I think Joe's laughing. He's pissing himself laughing. 'Aw, ya punters, ya gotta deal with my stuff!'"
And so the punters have: The first and last Joe Bird solo album, "You've Got One More, Baby," will be released with a listening party happening Saturday at 4 p.m. at the Empress Ale House. Two CDs contain 30 original songs Bird wrote himself and recorded from 1989-2009, solo, with CBC's Irrelevant Show and with various bands, a lot with Kodie, whose accordion is all over the record. Here's the catch: They're giving it away. Moreover, on May 19 at midnight, all the music will be available to download from the Bandcamp website "for free in perpetuity," says Kodie.
You might also imagine Joe saying, "You idiots!" But he wasn't like that.
On being involuntarily anointed as his friend's musical executor, Kodie takes it from a "karma point of view," he says. "When I first met Joe, it was like boom, you just knew you were going to know this person for a long time, and then I'm the one who finds him dead, and I'm the one who ends up holding the vaults of these hard drives."
Bird carried the Huntington's Disease gene. He never wanted to get tested, Kodie says, "he never wanted to know, so that sort of explains his philosophy of living balls to the walls, I don't give a fuck." Even when Bird began to have heart trouble, it took a lot even to get him to go to the Medicentre for medication. Three days later, on April 1, 2009, Kodie and neighbour Shannon Johnson found him dead at home. He was 41.
What Kodie calls a "board of mourners" was formed to deal with all the unsolicited donations that poured in, more than $10,000. They established a Joe Bird Award, which turned out to be unworkable, and had a memorial park bench put up, before Kodie and Bird's sister agreed the best way to use the money remaining was to put out the record.
It is as it was – just a little mixing, tweaking and no extra tracking required. "You've Got One More, Baby" is an honest collection giving an honest picture of Joe Bird's quirky style, representing the rare nexus between music, theatre and comedy. Bird was one of the few Edmonton artists who had his hands in all three worlds, first emerging as a member of the nationally renowned Three Dead Trolls in a Baggie Comedy troupe, which narrowly missed becoming the Kids in the Hall of the West. The Trolls came apart, each member continuing to various avenues of success in the performing arts. Wes Borg is now a comedy performer and public speaker living in Victoria, Cathleen Rootsaert still performs and directs shows around town, Neil Grahn is an award-winning writer, director and performer. And Joe Bird threw himself into music in a style best described by his one time partner Wes Borg in the band Hookahman as "trouser rock."
You know it when you hear it: a ragtag, jug-band jamboree mix of comedy and music. "You've Got One More, Baby" contains hilarious spoken word routines accompanied by guitar recorded in Joe's kitchen like "What Joe Saw on the Internet." There are serious love songs like "Ramona" and "My Girl," the latter dealing with a woman met in line at the Starbucks who stole his heart when she "put the X in espresso." There's a raucous song simply called "Fucking." It's not what you think. Sometimes the comedy and the music are seamless – one thinks of Bob Kemmis or Steven Page's tragicomic material; it turns out the first Barenaked Ladies cassette was a huge influence on the Trolls and various bands to follow, Kodie says. Bird's music is riddled with local lore and raw performances, left as is, trouser rock, rips, patches and all.
"We didn't touch any of it," Kodie says.
On the question of why Bird didn't release it, Kodie never got a straight answer, "It was all just kind of sitting there. I'd ask him. I had young kids at the time and I'd say, why aren't you out there touring? And he was content to just create. He was like Andy Partridge. Records weren't his thing."
There are people who believe there is no such thing as "closure," and that when you lose a loved one, you will never get over it, but in this case, "You've Got One More, Baby" is meant to put an end to the morbid annual celebration of Joe's death.
"It wasn't his grand plan to get more people missing him than actually seeing him, but that's how it's worked out," Kodie says. "There's no rhyme or reason for it, I suppose. That's how it is. The closure comes to the board of mourners – the most useless, ineffective board I've ever worked on."