WEEKEND MUSIC: All that glitters is Gold and Youth
Posted on May 16, 2013 By Michael Senchuk Entertainment, Front Slider, Music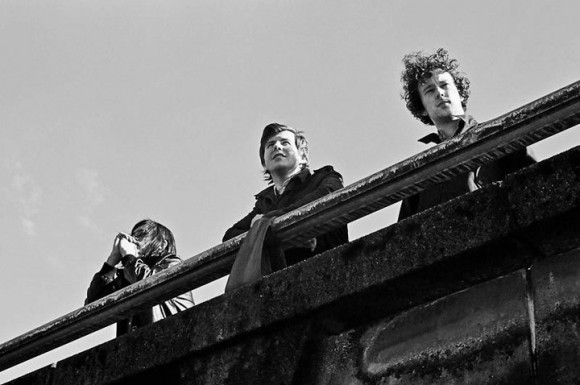 Within the next week Edmonton plays host to three major sold out shows: Carrie Underwood, Mumford and Sons, and Imagine Dragons. And while all will undoubtedly be extraordinary, one of the more intriguing live music options will happen at the Pawn Shop on Monday night – and you can still get tickets!
Vancouver alternative band Gold & Youth is at once reminiscent of the classic rock period and the coming-out period of alternative rock, adding subtle textures of electronica that give rise to an intriguing and innovative sound that remind one of sitting beside an ocean, twilight fading into darkness, a campfire bathing the sand and sea in flickering light. Like a beer commercial in a way, but with the best beer imaginable.
The band's most recent addition, Louise Burns, is a fairly-accomplished solo artist herself, and possesses one of the most amazing voices in the Vancouver music scene. The band recently performed across Canada with Diamond Rings, and is now embarking on a headlining tour that begins here in Edmonton to support their debut full-length "Beyond Wilderness", which was released earlier this year. Highly recommended. Pawn Shop, Monday, May 20, 8 pm, advance tickets $12.
Friday
Three Sun Sea – This Edmonton contemporary jazz quartet hosts a release party for their debut album "This Is Not a Question" at the Haven Social Club. All four of its members are accomplished instrumentalists, as well as composers and arrangers. High-brow, solid entertainment, for a really good price. 8 pm, $7 advance $10 at the door.
Saturday
Carrie Underwood – This Oklahoma native won the fourth season of American Idol in 2005, and is one of the very, very few to come out of any Idol program and make a name for herself. Underwood's charm, voice, and magnificent songwriting abilities have led to legions of fans throughout the continent, and such hit songs as "Inside Your Heaven," "Before He Cheats," and "Cowboy Casanova." The country star has also won an extraordinary six Grammy Awards and seven American Music Awards. Unfortunately, if you don't have a ticket already, you're out of luck – as her show at Rexall Place is SOLD OUT. Show at 7:30 pm.
Element Orange – Kind of like a cross between classic rock and classic alternative, this local band was founded in 2011, and has been making steady inroads into Edmonton music fans' hearts since. Magic in the Kill and The Fortunate Isles also perform. Haven Social Club, 8 pm, $7 advance, $10 door.
Hot Plains Music Festival – The inaugural edition of this Whyte Avenue event kicks off in earnest at The Wunderbar, with music starting in the late afternoon. Slam Dunk, Brazilian Money, Strugglefucks, Bonspiel, Ball & Chain, Switches, Lad Mags, Allovers, COWLS, and Wild Rose Orchestra all perform. The festival continues on Sunday with Renny Wilson, Bombchan, Fortrelles, and Field & Stream. Advance passes $40, door $15 or $10 for day shows, available at Barber Ha (10011 82 Avenue).
Wednesday, May 22
Mumford and Sons – Edmonton's been waiting a long time for this show. Given, it's pretty rare for a band that rises so quickly to prominence to play Edmonton after their first album – never mind a folk rock band from London, England, so even having them play here for their second album is somewhat of a coup. Certainly not standard practice. But this is no standard band. Laying the groundwork for their quick ascension to the musical throne, the "Little Lion Man" and "The Cave" singles from their first album "Sigh No More" were moderately popular here in Canada. But it was the singles off their second album "Babel" that really shot them into the stratosphere, with "I Will Wait" in particular blowing the minds of everyone from critics to fans to those inside the industry. Add on "Lover Of the Light" and the title track, and you've got one of the biggest bands in the entire world at this very moment. It doesn't hurt that the album won pretty much every conceivable award given to an album (Grammy, Juno, BRIT, etc.). Expect to hear their tracks almost non-stop on every radio station in the city at the beginning of the week leading up to the show at Rexall Place. Which of course is SOLD OUT – tickets lasted maybe a minute the day they went on sale – though at last check the resellers seemed to have plenty left.
Thursday, May 23
Imagine Dragons – This Las Vegas band already played once in Edmonton this year, with a sold out show at the Starlite Room in March. Apparently they're in such high demand that they're back again for another round, this time playing yet another sold out show at the Shaw Conference Centre. Reviews from that first show were, to put it conservatively, glowing, so expect another higher-than-high-energy show that enraptures the crowd and takes them away from all this arena nonsense, if only for a fleeting moment. Odds are good you'll be singing their hit song "Radioactive" for a few days afterwards, but don't apologize to your friends for it – they're just jealous they couldn't get tickets. The Envy Corps and X Ambassadors also perform.