Record Store Reunion to celebrate coolest job ever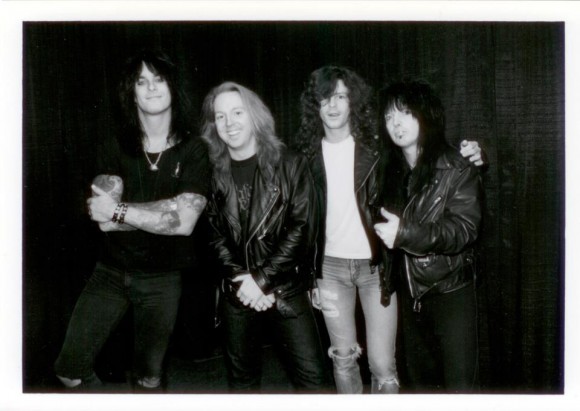 Like steam locomotive repairmen, harpsichord tuners and silent movie title card calligraphers, record store clerks are nearly extinct.
People of the future will look back upon four decades, the 1960s to the 1990s, and no doubt have a few questions: What were "albums?" What's a record store? Why was being a record store clerk such a cool job? They made movies about it and everything. Very strange.
The major music retail chains are now effectively gone, thanks to the Internet (and we're talking about retailers of new music, a different world than that of the independent record stores): Sam the Record Man, Tower Records, Music World, A&B Sound, Kelly's, all gone. Turns out there are a surprising number of Edmontonians who had their careers suddenly if not unexpectedly stripped away by this seismic shift in the record business, yet who still care very deeply about the work they did. Unlike any job one has when one is young, these people have kept in touch, bonded through a shared passion for music.
And so that's why we have the annual "Record Store Reunion" taking place at the Avenue Theatre on Saturday, May 18 at 6 p.m. A big crowd is expected. They come not to mourn, but to celebrate, says organizer Guy Lavallee, a former manager at HMV West Edmonton Mall, one of the few music stores still standing and it's not even really a music store anymore.
"We're not mourning the good old days, we're celebrating the fact that 20 years later there are so many people who have kept in touch, and we actually still want to hang out with each other," Lavallee says. "I think every generation has an aspect of their youth they look on with a nostalgic glow, and I worked in music stores and I worked in video stores – two things I thought were bulletproof, two things that have gone the way to the dodo bird. What did I know?"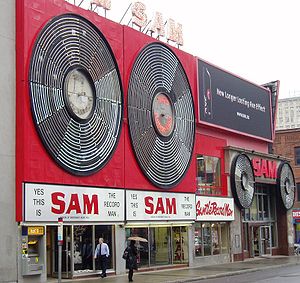 Lavallee knew enough to get out in time to start another career as a filmmaker and producer. For he and his cabal of fellow record store clerks, this was the coolest job ever. People lined up to get such a job. You'd be one of the first people to hear new music, you'd get free tickets to any show you wanted, there were free records, merch, schwag and lots of opportunities to meet the stars. Your decisions – whether to "front rack" a new release or even better, play it on the store stereo – had a direct effect on record sales. It wasn't just a job, it was a cool career for music lovers to share their vast knowledge – any one of them could kick your ass in a game of Rock 'n' Roll Trivial Pursuit. Nick Hornby really hit the nail on the head twith his novel High Fidelity, made into the 2000 feature film starring John Cusack and Jack Black. Lavallee's kind of people.
"When I read that book, I thought it had been written for me," he says. "We were all music nerds. I remember working at Sam's when I moved to Edmonton when I was 19 years old. I didn't know where I fit in, and I walked into this store and it was filled with – and I say this in the most loving way possible – filled with all these freaks and weirdos. And I was like, oh, my God, I found my home!"
The public at large may not have been aware of it, but record store personnel used to form a vital arm of the music business – from artist to producer to record companies to promoters to the radio guys, record stores were the front line. It's where the records actually got sold. Starting around 1999 when Napster launched, things started to change rapidly. The end result was clear to anybody paying attention.
"It's odd how quickly it happened," Lavallee says. "It didn't surprise anyone, but it still shocked people. When Tower Records went down – such a major iconic American company – it was a shock to think that it doesn't exist anymore. It's still weird walking down Younge and Dundas in Toronto and not seeing Sam the Record Man."
Even so, music fans today are still doing the same thing their parents did: Looking for new music wherever they can. Instead of flipping through vinyl at the record store, it's clicking on the Internet – only now any fan can instantly sample almost any music desired before buying it. Or stealing it. That's changed the music business, too.
"You're still looking for new music," Lavallee says. "It's just a different delivery method – and that's why touring has become so important to bands."
Ironically, he adds, the very thing that destroyed his career is what made the first annual Record Store Reunion possible: A Facebook status update from a former record store clerk pining for the good old days that "went viral" – at least among all the former record store clerks, freaks and weirdos in town. They appear to be very much into keeping their club going. You never know. The Internet might still find a way to put their skill sets to use. There's a lot of material out there. We need professional bullshit detectors now more than ever.
(Top photo: From left, Nikki Sixx, Guy Lavallee, Gino Pezzani (Sam the Record Man store manager) and Mick Mars, taken backstage at Motley Crue's Dr. Feelgood tour in 1990)