Monster Energy salute for those about to rock in September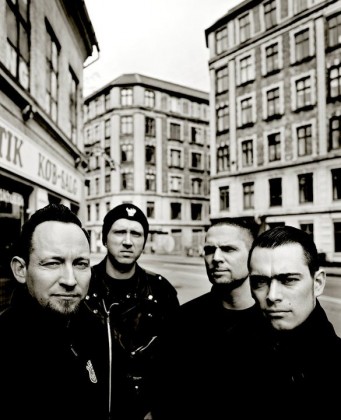 Important disclaimer: Drinking Monster Energy drink will not turn you into a monster, though it might keep you moshing continuously through four monstrous rock bands coming to Edmonton on Monster Energy's Rock Allegiance Tour. It's a five-hour energy drink, right?
Pulling into Rexall Place on Tuesday, Sept. 10 will be Volbeat, HIM, All That Remains and Airbourne – four bands that have proven audience appeal in this market as opening acts on a number of occasions. Tickets go on sale Saturday. They call it "active rock," which seems to be a cross between classic rock and modern rock (minus any sort of hip hop influences) No surprise the Bear radio station is the presenting sponsor for the Edmonton stop.
They also call it "rock without borders" as three of the four bands are not from this continent. Volbeat (right) – just here rocking out at the Shaw – is from Denmark, part of the world where dark and heavy music seems to thrive, as in Finland, where HIM is from. Airbourne, from Australia, meanwhile, has been kicking around for a while as "the next AC/DC" because they really do sound a lot like AC/DC. And all that remains is the veteran neo-metal band All That Remains, which is from Springfield, Massachusetts. Dark enough for you?