Jewish film asks awkward question: What DID grandpa do in the war?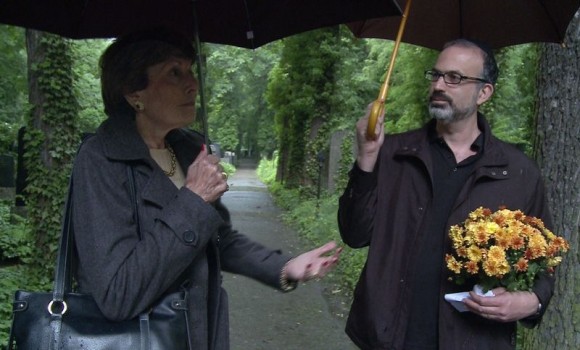 You'd be upset, too, if you discovered that your Jewish grandparents partied with Nazis – an astounding example of "temporary mutual interest."
Playing at the Edmonton Jewish Film Festival that runs May 26-29, The Flat starts with a very ordinary scene familiar to everyone of a certain age, and not at first something you'd think would make an interesting documentary: Settling the affairs of a dearly departed parent or grandparent. Closets are emptied, books are boxed, junk is tossed, once-forbidden drawers are rifled through – but then filmmaker Arnon Goldfinger discovers copies of the Nazi propaganda newspaper Der Angriff with grandpa's name in it. The articles were titled "A Nazi travels to Palestine." Temporary mutual interest.
So begins a grandson's epic personal investigation that spans Europe and the Middle East and almost 100 years of turbulent family and cultural history. Cameras follow him the whole way.
Turns out that Goldfinger's granddad Kurt Tuchler was a prominent judge in Berlin before the Jewish purge began in 1933; as one of the gentry, he became pals with one Baron Leopold Von Mildenstein when they went to the Middle East to check out how Zionism was going. The baron worked for Germany's Jewish Affairs Desk until 1937, when he was succeeded by Adolph Eichmann, who engineered the Holocaust. Von Mildenstein, meanwhile, became a high ranking SS officer in the propaganda ministry during the war. His name was mentioned during Eichmann's trial.
Amazingly, the Tuchlers and the Von Mildensteins remained friends AFTER the war – and nobody ever said a word about it to the kids.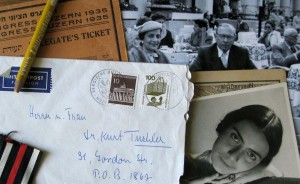 Goldfinger is beyond aghast. The threads of the story unfold through hundreds of dusty letters grandma Gerta saved that were almost thrown away. His mother Hannah is no help. She's as blindsided as her son, stoic and apparently in deep denial. At one point, she questions him: What good it does it do to tell someone their dead parent was a murderer? "It's none of our business," she says. Mom, and indeed many in the first generation after the Holocaust, is tight-lipped about it. She comes from the generation where things like this were not discussed.
Not now, of course. Goldfinger pores through stacks of correspondence and tracks down a number of subjects around Europe, including Von Mildenstein's daughter Edda in Berlin, who is similarly dumbfounded by what her dad did during the war. The most terrible thing discovered is that Goldfinger's great grandmother quite likely perished in a concentration camp. Despite being given plenty of warning by her affluent and well-connected children, she didn't want to leave Germany where her family had lived for generations, and paid the ultimate price.
It's hard not to feel sorry for the filmmaker as he makes one unpleasant discovery after another – experiencing the very real but complex emotion Germans even have a compound word for: "Grandparent-secret-shame." That's the real emotional payoff with this documentary – experiencing a tragedy so huge through one personal story.
Goldfinger's investigation runs into a dead end where Mildenstein's actual role in the Holocaust is concerned. There simply isn't enough information. Even his own daughter was unaware he was a Nazi, though he was never tried for war crimes, and lived out his life – often corresponding with the Tuchlers – in relative peace and quiet. As one of the German subjects interviewed puts it, "Not everybody was a bad Nazi."
Goldfinger, it is clear, isn't so sure. The Flat isn't very satisfying in terms of granting "closure," but then nothing in real life is.
Four of the eight films at the Edmonton Jewish Film Festival – which all screen at the Citadel Theatre – deal with the Holocaust in some way, but few could possibly be as gut-wrenching as this one.
Asked about the Holocaust remaining such a powerful theme in Jewish arts and culture, festival producer Josh Miller asks the often-asked question, "It happened a long time ago, can we all move on?" Miller's family was lucky not to have been touched by the Holocaust, he says, but Holocaust stories continue to be compelling. Not only that, but as The Flat proves, many of these stories are only now coming to light as the second and third generations of survivors start to put the pieces together.
Miller says, "The stories are so dramatic, and there's so many examples of hidden heroism, quiet rebellion. It's not about victimization, it's about heroism. After seeing a film like this, people may go away feeling sad, but inspired. I think it's part of the zeitgeist of what it means to be Jewish. That's part of our history and our identity and we don't have to be victims."