Big top goes up as Cirque du Soleil takes over Edmonton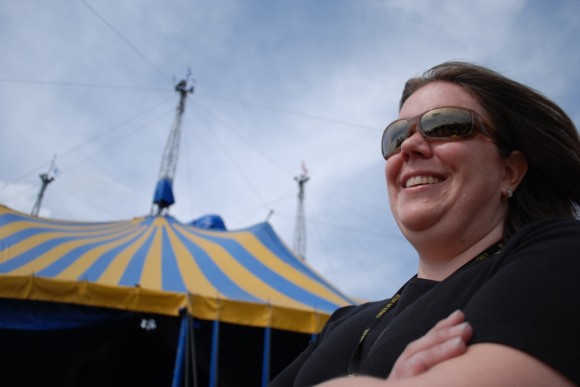 Local media were recently given a sneak peek of an amazing demonstration of strength, grace and agility as more than 80 people gave their all in the service of the popular human circus Cirque du Soleil – and that was just the construction crew raising the big top at Northlands on Thursday. The actual show should really be something. "Amaluna" plays May 29-June 23.
So how is this different from any of the other many Cirque du Soleil shows that have come through Edmonton? Or any of the six arena shows that are touring the world? Or any of the seven Cirque shows currently playing in Las Vegas? It's taking over the world, by God.
"Absolutely!" says Amaluna company manager Jamie Reilly (above), who's been working with Cirque for 12 years. "One city at a time."
This one is different because Amaluna takes place inside a giant circus tent – a Cirque first for Edmonton. Last time there was such a fuss about a big tent, there were horses inside it. No animals, of course, have ever been used in Cirque du Soleil in its more than 30 year history, just one amazing HUMAN demonstration of strength, grace and agility after another, each show more amazing than the last. The big top show is said to be the epitome of what Cirque does.
"Instead of seeing the show at the far end, you're part of the production," says Reilly, addressing a scrum of cameramen and reporters decked out in full safety gear. "You'll feel the energy of being in a tent, which in itself is a phenomenal experience."
Superlatives are never in short supply when it comes to this mass entertainment juggernaut. This big top is said to be the biggest big top in the world. We are offered the sort of stats that get trotted out when U2 comes to Commonwealth Stadium. More than 500 people are required to run Amaluna, including 48 artists, 72 permanent support staff and up to 300 workers hired locally – like the 80 who heaved up giant poles to raise the edges of the gargantuan tent manually. Amaluna has created a small village around itself at Northlands Park, complete with kitchens, a school and a store. The "raising of the big top" is always considered an important event in Cirqueland. Sixty-five trucks are required to move all the gear, which takes seven days to set up, and so on and so forth, all very big, all very impressive.
Aside from other differences from previous shows – a mainly female cast – the challenge with a new show when you're already mounting 18 different ones around the world at the same time is how to keep it fresh. No worries, is the expected answer from Reilly, who is sometimes called the mayor of Cirquetown.
"It's a continuous challenge," she says. "The one saying with have at Cirque is: Impossible is just a word. As long as we don't forget that, I strongly believe that regardless of the number of shows we produce, we will manage to surprise and reinvent ourselves continuously."