MUSIC PREVIEW: Primus to get trippy
Posted on May 23, 2013 By Michael Senchuk Entertainment, Front Slider, Music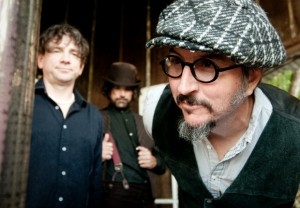 It turns out you didn't actually have to decide whether to see Mumford and Sons or "xx" on Wednesday night – you could've gone to both shows, what with the Rexall curfew and a late set time for xx. Though maybe your bank account would've said differently.
This weekend there's a few shows worthy of note, but things ramp up once again in the middle of next week with a spate of major touring bands, including a show a lot of locals have been waiting for – Primus 3D at the Jubilee Auditorium on Tuesday, May 28.
Primus needs little introduction – an experimental alternative rock band from California that started in 1984. Vocalist and bassist Les Claypool is technically the only original member remaining with the band, and his solo work is also widely known, especially in the theme songs to the original South Park and Robot Chicken, unconventional, atonal music that offers a good idea of what he and Primus are all about.
The band has put out seven full-lengths, always on the cutting edge, grasping influences from around the globe. Their music has been referred to as everything from funk to thrash, alternative rock, alternative metal, and progressive metal. Which really just means their music is different from most anything you'll hear, which generally means alternative, doesn't it? Or maybe experimental. Whatever. This isn't a band whose songs do all that well on radio, surfacing more through word of mouth or your best friend's brother's girlfriend, but you've probably at least heard of such classics as "Wynona's Big Brown Beaver."
This show's even a little more special for fans, as they've promised the "first ever 3-D enhanced live musical performance", as well as four-channel sound. The band pledges the show will be "really trippy," and it's somewhat surprising that plenty of tickets are still available, for $44.50 and up plus service charges, at Ticketmaster.
Friday
Comeback Kid – This hardcore band out of Winnipeg has been setting the tone for prairie punk since its debut in 2003. While this show is at Ritchie Community Centre (7727 98 Street), you just might be able to hear it from Whyte Avenue. 6:30 pm, $15 advance, $20 at the door.
Alex Vissia – This folk songstress specializes in capturing your heart with her music, and will hold on to it for her entire set, so don't forget to pick it up on the way out. Better yet, you can now have even more of her music with you at all times, as this is a release party for her sophomore album, "Young Love." Fiddler's Roost (8906 99 Street), 7:30 pm, advance $15 (includes free copy of new album).
Saturday
Fear Factory – This California on-again-off-again metal band released their first album in 1992 and now have eight full-lengths to their credit. The band's sound has evolved over the years, dabbling in a variety of metal sub-genres, but they're staples in the circuit South of the border, having performed in a number of Ozzfests as well as the inaugural Gigantour. Hate Eternal, Kobra and the Lotus, This is War and No Heat Tomorrow also perform. Avenue Theatre, 8 pm, $20 advance, $25 at the door.
Crazy Truck – Once again, metal fans have their choice of gig on Saturday night, as this local act will be headlining a show at Bohemia that features two other well-known bands, NN and Van Gohst. 8 pm, $8 at the door.
Fire Next Time – This local act likes to declare themselves as punk-folk. It might sound weird, but (a) it's pretty appropriate; and (b) it actually coalesces damned well. Wunderbar, 9 pm.
Sunday
Fish & Bird – This Vancouver progressive bluegrass-folk collective performs at Haven Social Club. With influences as diverse as Radiohead, Miles Davis, and Gillian Welch, anyone in attendance will undoubtedly be raving about this show for some time. 6 pm, $8 advance.
Tuesday, May 28
Boxer Rebellion – Speaking of English indie bands, this London quartet makes their way into town for a show at the Starlite Room. Formed around 2001, they've released four full-length albums, with an almost post-Britpop sound, coming along in the wake of such giants as Oasis, Coldplay, and Radiohead. Again, not a band loved in particular by radio on this side of the ocean, but they have a huge fanbase among music curators for television shows, with songs appearing on NCIS ("Caught By the Light"), Grey's Anatomy (three different songs), CSI: New York ("Locked In the Basement"), Vampire Diaries ("Code Red & Dream"), and a whole raft of others. $17 advance.
Wednesday, May 29
Crackling – This Vancouver act is touring to support their sophomore album "Mary Magdalene", which was released in mid-April. They'll be at The Artery with their Dylanesque bleak-but-hopeful folk-rock sound. 8 pm, $12 advance, $14 at the door.