REVIEW: Marathon reunion show proves Jr. Gone Wild must go on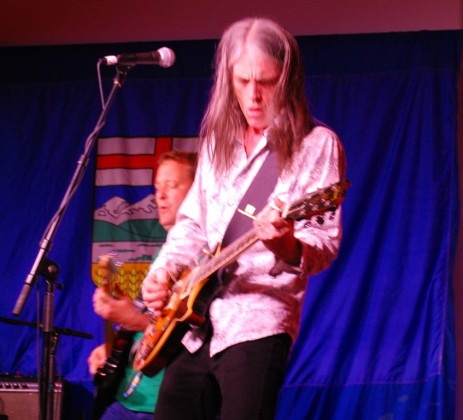 It's as if Jr. Gone Wild stepped out of a time capsule – its honky-tonky, punky good-time Alberta country music perfectly preserved all this time to be revived with a vengeance by four rock 'n' roll Rip Van Winkles.
Rock 'n' roll seems to be hard-wired to celebrate the past in 20 year cycles, and Jr.'s reunion is no exception. Close enough. The beloved Edmonton band gave about 600 fans exactly what they wanted in a scorching marathon comeback concert on Friday night. Four months of rehearsals seem to have paid off as singer Mike McDonald, bassist Dove Brown, drummer Larry Shelast and guitarist Steve Loree demonstrated remarkable stamina and near-perfect musicianship, that is, imperfectly perfect as this sort of ragged-ass roots-rock music demands. No. 1 rule: When it doubt, rock out. It really does sound like a seamless hybrid of punk rock and country music, created long before it became a thing. Look at it this way: Jr. Gone Wild didn't actually break up at all. They just took a little rest.
It must've helped. The musicians looked like they were having a blast – and there's your magic. The show started fast and furious, switched into dusty Western swing cruise control and commenced down two-steppin', g-droppin' side roads before a long and loud home stretch containing the hits like Up All Night and Where the Hell Are You? – most songs about heartbreak or drinking or the various permutations thereof. Loree's steel guitar during the cry-in-your beer portions of the show was a nice touch. The vocals were solid, amazing considering how much McDonald smokes.
Music has come a long way in the last 20 years or so since Jr. wound down. The band sounds EXACTLY the same. Possibly even better.
There were other nice touches. Opening act Carolyn Mark and Her New Best Friends was a vampy, campy blast from the past: Coming off like a noodling saloon band circa 1947. Best Friend and former Jr. member Ford Pier joined the headliner later on for "I Don't Know About All That."
The gig was held at an Oilfield museum and theme park called OTS Park, at the end of a dirt road in the middle of nowhere. How appropriate to Edmonton. Jr.'s fans, friends and family turned up in droves in a scene that felt like a cowpunk high school reunion and a bush party rolled into one. All that was missing was a fleet of buses to transport the drunks.
It only seemed like conversation would dominate the evening until the band started to play, because they were so good you couldn't pay attention to anything else, and it was too loud to talk anyway. A documentary crew shot the whole thing. The Edmonton Juno-winners Corb Lund and Bill Bourne were among several local celebrities and music business wheels spotted in the crowd. At one point after the clock ticked over past midnight with the show showing no signs of slowing down, both McDonald's mother and his kids were still in front, rocking out.
"Welcome to the rock show!" he told his daughter up past her bedtime.
It would of course be completely lame if this were it – one last hurrah, followed in a year or so by another last hurrah, and so on in a series of last hurrahs like Cher or Fleetwood Mac – but also unrealistic to expect this sort of enthusiastic turnout at every gig to come. The band must continue. So say the fans so obviously moved by such a terrific and, Jesus, what a goddamned long show that literally hit all the right notes.
The next step is obvious: New music, and right soon – or back into the time capsule with you!