PRIDE: The Picture of Happiness more than just a gay story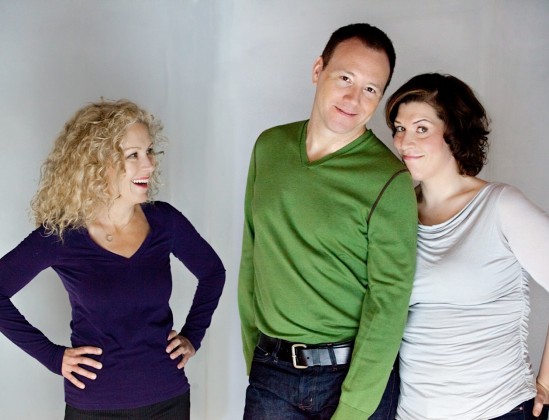 "The Picture of Happiness" wasn't initially meant to be part of the Edmonton Pride Festival. The play is "much bigger than gay story," says its piano player and collaborator Patti Loach, who will accompany Toronto actor Brad Hampton in his personal one-man musical. "It's a story about a grandson's intention to honour his grandfather, to not let him be forgotten."
It was coincidence that the dates lined up. The Picture of Happiness runs June 6-9 at the FaBLOOMosity Inc. flower shop in the Mercer Building. The pride festival takes over Edmonton for the next two weekends.
They've since made a connection, naturally, as increasing acceptance of LGBTQ people (lesbian, gay, bisexual, transgendered and queer and/or questioning) grows stronger every year, even in allegedly redneck places like Edmonton. The pride parade at noon on Saturday, June 8, followed by the Pure Pride Party until 8 p.m. in Churchill Square, are expected to draw more than 30,000 people. Those are just two among more than 35 gay-friendly events happening around town June 7-16. Also expected to be popular is the "Come Out and Play Family Picnic," where families with two mommies or two daddies can comfortably gather. It happens Saturday, June 15 in Oliver Park (118 Avenue and 103 Street).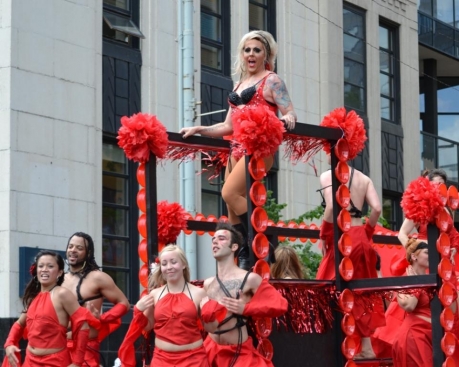 No one could disagree that society has come a long way in gay acceptance – especially from 1943, which is when the true story in The Picture of Happiness begins. It begins with a picture. Young Brad had found an old photograph of his granddad with his arm around another guy, sitting on a picnic blanket, smiling for the camera. Hence the title of the play. Yes, granddad was gay. Mom didn't want to talk about it.
Loach says, "It took her a lot of courage and 20 years to be able to talk about that photograph. What happened was devastating."
There will be no spoilers here, though you can be assured the story is more heartbreaking than Trevor Anderson's short musical film The Man That Got Away, on a similar theme, about a gay great uncle who hooked up with Judy Garland in rehab – another story left unspoken at family gatherings.
When Brad came out of closet to his own mother, she is said to have replied, "Oh, sweetheart, don't choose gay. I don't know why anybody would choose a life full of so much pain."
As a mother of three boys, Loach, too, has a personal stake in this story, especially after her youngest son came out of the closet. Hampton's influence made it a lot easier.
"We've always had a number of gay friends – we work in the arts," Loach says. "We've always be very open. But I'm sure seeing Brad so comfortable in his own skin made things much easier for my son – and also for my son's grandparents."
Upon seeing The Picture of Happiness for the first time, Loach's father-in-law was so moved that he jumped up and gave Hampton "the biggest emotional man-hug ever."
As for mom, she hasn't seen the show yet.
"She's a little nervous at how she'll be portrayed," Loach says, "But by the end of this show, you will love this woman."
The Picture of Happiness falls right in with the spirit of the Edmonton Pride Festival, of course. Festival manager Angela Bennett – who simply can't keep track of all the events, since anyone is welcome to put one on during the festival – relates a recent conversation she had with a neighbour: "He said, 'well, what happens if one of my kids came home and told me they were gay? Well, big deal. It's just something I would have to accept.'
"I think we're at an in-between stage right now," Bennett goes on. "With our parents, it was definitely a faux pas, and now it's definitely more acceptable."
(Top image, from left: Patti Loach, Brad Hampton and director Rae Ellen Bodie, photo by Sabrina Reeves. Middle image: From Edmonton Pride Parade 2012)