MUSIC PREVIEW: Nextfest best bet
Posted on June 6, 2013 By Michael Senchuk Entertainment, Front Slider, Music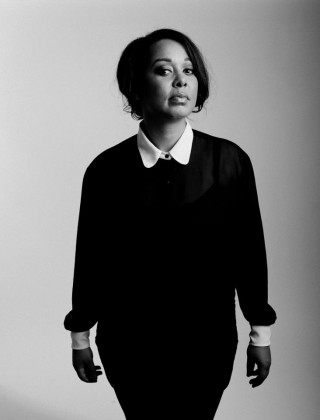 Edmonton's first major arts festival of the season – Nextfest – takes over the city for the next week and a half, featuring almost every art form you could imagine, from theatre to dance, from visual arts to film, and of course music.
The most interesting option amongst its many offerings may be a combination of the above, a "folk opera" written and starring Edmonton's own Rebecca Lappa. With four performances throughout the festival, there's sure to be a time when you can go check it out. Meanwhile, the CBC Music Series takes place at the Artery and Roxy Theatre venues, featuring such local notables as the Command Sisters and Nuela Charles (right). Also performing will be the always brilliant Lyra Brown, drone-rock-metal act Ghostkeeper, area comedy rappers Kemo Treats and the Winnipeg reggae-rock band Noble Thiefs.
Other intriguing multi-artist options include Transgression (Bohemia), featuring Zachary Polis and his soundscape of digitally imagined and invented birds; Andre Mustre and Allison Balcetis exploring music through an electroencephalograph, and Zebra Pulse – considered by some to be too weird for punk – with its usual collage of sound and rhythm. Also check out the nine-piece ensemble Alter/Ego; and Sydney Gross with a "found instrument" set. Complete schedule here.
Friday
Bonspiel – These country rockers headline a night of incredible local talent over at Wunderbar. The rest of that bill includes the Jessica Jalbert Band and the Trevor Tchir Band. 9 pm.
McGowan Family Band – Yet another one of "those" bands that Edmonton has become famous for, with a foundation in rock and layered with a diverse range of other genres. In this case, folk, reggae, and blues. It's also a release party for their newest disc. Opening the show are Canyon Rose Outfit, Tallest To Shortest and Gibson Block. Pawn Shop, 8 pm, $12 advance.
Leeroy Stagger – The second release party of the weekend is over at the Haven Social Club, with the release of this Lethbridge artist's "Truth Be Sold" album – an incredible journey of alt-country-roots-rock, produced by the legendary Steve Berlin of Los Lobos fame. Unwed Mothers are also on the bill. 8 pm, $12 advance, $15 at the door.
Saturday
Intronaut – This prog-metal act from Los Angeles has a little something for everyone – psychedelic/stoner rock, Indian, and African rhythms, and a significant jazz influence. Scale the Summit, Mouth Of the Architect and Noumenon also perform. Pawn Shop, 8 pm, $20 advance.
Matt Epp – This Winnipeg folk-rocker is also releasing an album this week. "Learning To Lose Control is Epp's his eighth solo album, though you may be more familiar with his collaborative work with such famed artists as Rose Cousins, Serena Ryder, and Amelia Curran. Respected throughout the Canadian music scene, Epp has also appeared at a variety of the Canadian folk festivals. French Press opens the show at the Haven Social Club, 8 pm, $9 advance, $12 at the door.
Sunday
Skeletonwitch – This five-piece heavy metal act out of Athens, Ohio, headlines a show at the Pawn Shop on Sunday night. Known for their insanely busy tour schedule, the band found some time earlier this spring to record their fifth studio album "Serpents Unleashed," which will drop sometime in the fall. With Mortillery and Endast, Pawn Shop, 8 pm, $12 advance.
Monday, June 10
Cave Singers – These indie rockers from Seattle take the stage over at the Brixx Bar & Grill. The band's 2013 album "Naomi" is receiving rave reviews and significant buzz throughout the music mediaverse, with their robust, raucous sound, tinged with a bit of a 60's vibe and folk overtures. 8 pm., $14 advance.