Too young for the blues, Doug Hoyer goes worldbeat on new CD
Posted on June 12, 2013 By Mike Ross Entertainment, Front Slider, Music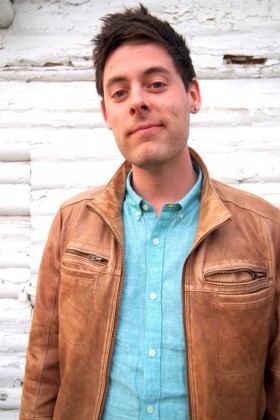 You hear this sort of thing all the time – "I am where I am today because of the CKUA Radio Network" – but it's different to see it in action.
Doug Hoyer is where his is today because of the CKUA Radio Network. His parents forced him to listen to it – when what that poor kid still inside his first pair of shoes too young for the blues really wanted to do was rock out to the new station in town at the time, The Bear.
No, they didn't. CKUA was just on all the time, the 27-year-old Edmonton singer remembers. He'd discovered garage rock on CJSR, too, and on top of that, "My dad had a pretty decent record and CD collection. I did find 'Stop Making Sense' by the Talking Heads in the far back of the shelf, and that was a sweet find that influenced me for sure."
Did it ever. Hoyer's slick new CD "To Be a River" paints him as a David Byrne meets Robert Smith from the Cure, or maybe Nick Cave, music rich in exotic, bohemian grooves of the sort commonly heard on CKUA's world music shows. Hoyer plays a multi-media CD release event Saturday, June 15 at the Haven Social Club, with local electro-pop act Cantoo headlining.
When you're new, people are going to make comparisons. The bio writer for Calgary's Sled Island Festival – where he plays June 20 – compared Hoyer to Tiny Tim, if only for the fact Hoyer played the ukulele on stage as early as 2007, a couple of years before it became hip. At the 2012 edition of Sonic Boom, there were not one, but TWO acts that incorporated the humble four-stringed instrument Tiny Tim made famous back in the 1960s.
There may be a hint of flower children in Hoyer's lyrics, too, especially in such songs as the David Byrne-ish, Peter Gabrielian title track, where "every day is a river." He explains, "This goes back to Heraclitus, a little further back than the '60s. He has a quote along the lines of, 'You can't step in the same river twice.' That idea kind of resonated with me a little bit. Even when you're in a mundane routine there are still variations and differences every day. Our lives are flowing forward and even if they look the same, they aren't. Well, I guess maybe there is some hippie stuff right there."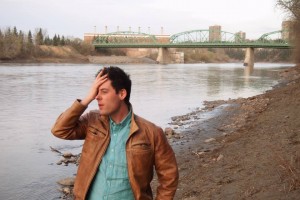 Hoyer has made quite a splash in the Edmonton music scene in the 10 years since he was part of the winning band on CBC's "Rock Camp" reality show, where random teens were assembled and groomed into a real rock bands. The winners recorded a single that was released on EMI music and since forgotten. Hoyer, on bass, and local studio whiz Doug Organ, went on to become members of Christian Hansen and the Autistics, before Hansen and his partner moved to Toronto. Hoyer released three EPs and one full length album somewhere in there, along too many side projects to list. He toured Canada with local rapper The Joe, re-imagining his music in the manner of a "creepy lounge singer" who uses backing tracks from an iPod. Hoyer's show on Saturday will have a real band, plus some higher-quality backing tracks. You'd need 15 guys on stage to replicate the sounds on the album.
He has not, however, quit his day job yet. There's even a song about it on the new album. It's called "Minimum Wage." It was a hard one to write, Hoyer says.
"Because who wants to hear some white guy complain about having a job? I've got it good. I get that. I say that in the song. It's not a bad job. But for people to do the thing they want to do, they have to do a thing they don't necessarily want to do. It seems like such a mundane thing, but it's allowing me to do what I want to do. That to me is what the song's about."
Doing what you don't want to do so you can write song about doing what you don't want to do so you can do what you want to do want to do … wow. For more of this meta-hyper-aware style, Hoyer has also written what may wind up being his most widely heard music: the theme song to Simon Glassman's Bite-TV series "Felt Up" – the first reality show populated entirely by puppets sharing shameful sexual secrets. The idea is that Simon Puppet's roommate character sings a song about how Simon Puppet asked him to write the theme song, and so on.
The show, Hoyer adds, "is very self aware."