MUSIC PREVIEW: Sled Island Spillover Effect
Posted on June 13, 2013 By Mike Ross Entertainment, Front Slider, Music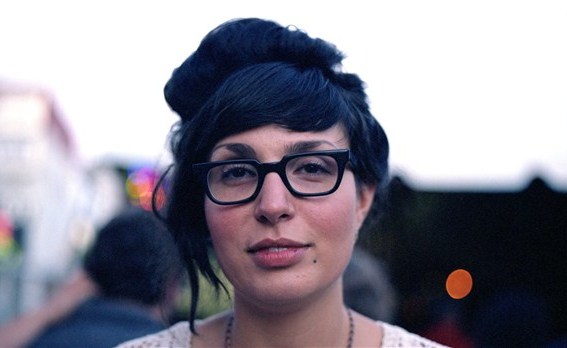 NextFest continues through the weekend with a deluge of intriguing and diverse gigs, and we bow to their offerings for much of the weekend as summer festival season starts to kick into full gear.
The big upcoming date in the music calendar is next Wednesday, June 19th, as the "Sled Island Spillover Effect" takes hold in Edmonton. Two absolutely extraordinary musicians who play the annual Calgary festival June 19-22 will also be visiting our fair city. The first is Halifax native Gianna Lauren, whose third album "On Personhood" has finally caught the attention of mass media. From CBC to such influential blogs as "Herohill," her stock has been on the rise stratospherically the last couple of months, with her song "Trouble" getting plenty of airplay throughout the nation. She once called Alberta home. She'll be headlining The Artery on Wednesday, doors at 7:30, $8 advance.
The other treat next week is Dent May. The Wunderbar has become known as this incredible little venue hosting animated, frenzied live acts, and May is no exception. The alt-soul musician has been ploughing significant furrows throughout the continent's music scene, and it's no less than a coup that the Wunderbar is hosting the Mississippi native next Wednesday night. Freak Heat Waves, Monomyth, and Nap Eyes and Open Relationship also perform. 8 pm, $12 advance, $15 at the door.
Friday
Raygun Cowboys – Wow, has it been that long already? This local psychobilly act hosts its 13 year anniversary party, playing with opening acts The Teenage Gentlemen and The Misery Mountain Boys. Pawn Shop, 8 pm, $12 advance.
Half Chance Heroes – If there's anything this city's music scene is known for – well, besides folk – it's bands with an intriguing blend of different sounds and influences that somehow coalesce into a successful whole that's often better than its parts. Such is the case with this Red Deer act as they manage to blend hip hop, punk and reggae. You didn't think that was possible, did you? Well, it is. Medical Pilot and Hearsay also perform. Studio Music Foundation, 8 pm, $10 advance, $15 at the door.
Saturday
The Maine – This rock band from Tempe, Arizona, hasn't been around all that long – certainly not near as long as the Raygun Cowboys – having been founded in just 2007. Since then, the quintet has put out four full-length albums, including "Forever Halloween," released just last week. The band gained its first notoriety during the 2009 Vans Warped Tour, and has gigged in such faraway places as Singapore and Australia. Avenue Theatre, 7 pm, $20 advance, $25 at the door.
Cantoo/Doug Hoyer – These two pop acts have scheduled a double CD release together. Cantoo, more of an electro-pop act, also has a bit of a psychedelic twinge. Doug Hoyer, meanwhile, is receiving some serious buzz over the last year or so throughout the prairies, and has played a number of festivals as well. Read an interview here. The Physical Copies also perform. Haven Social Club, 8 pm, $7 advance, $10 at the door.
Sunday
The Earl – The final NextFest performance of Rebecca Lappa's folk opera happens at 4 pm at the Azimuth Theatre. A captivating, suspenseful romp through a series of connected but well-paced songs make this a real treat. Lappa's talent shows through on the keyboards, in her voice, and in the compositions themselves. $10.