Wool on Wolves among locals up for Western Canadian Music Awards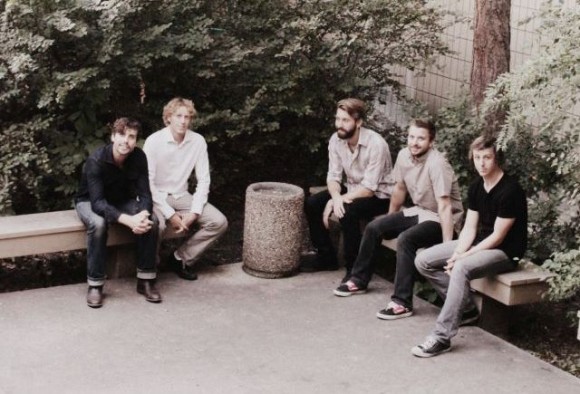 Like hockey season well past its sensible expiration date, awards season continues – but no complaints so far from Edmonton's music community, which is well represented in several areas beyond the city limits.
Nominations for the 2013 Western Canadian Music Awards – happening in Calgary Oct. 3-6 – came out Tuesday to reveal highly-decorated local folk-rock band Wool on Wolves up for three awards, including Rock Recording of the Year. There are two local metal bands vying for Metal/Hard Rock Recording of the Year: KingDoom and This Is War, lending more evidence that we're a metal/hard rock kind of town. And roots, too: Corb Lund – our most famous Edmontonian artist at the moment – in the running for Roots Solo Recording of the Year, and 100 Mile House for Roots Duo or Group Recording of the Year.
Rounding out the local artist nominees are Jay Sparrow (Songwriter of the Year), Jimmy and the Sleepers (Blues Recording of the Year), half of the Hutchinson Andrew Trio (Jazz Recording of the Year; Chris Andrew lives in Edmonton, his partner in Calgary) and Nuela Charles (Urban Recording of the Year).
The good news comes on the heels of the release of the Polaris Prize "Long List." Two Edmonton acts are there among 40 from across Canada in the running for the annual $30,000 cash award honouring excellence in recorded Canadian music: Our old friend Corb Lund and popular area duo Purity Ring. We can claim them, can't we? Sure.
There has been some grumbling about the point of having a Polaris Long List to begin with, like, call us when you get the short list! Polaris Prize producer and founder Steve Jordan explains, "We release the Long List so the public gets exposed to 40 excellent records. So yes, it is a marketing tool for those 40 artists. I must say that I am baffled that anyone would complain about this."
It would be like people complaining about hockey in June.
The Short List comes out July 16, followed by the Even Shorter List, that is, the winner, on Sept. 23. Public input is not required. It's not a popularity contest.
Polaris Prize contenders:
A Tribe Called Red – Nation II Nation
Alaclair Ensemble – Les maigres blancs d'Amérique du Noir
ANCIIENTS – Heart of Oak
The Besnard Lakes – Until In Excess, Imperceptible UFO
Louis-Jean Cormier – Le Treizième Étage
Daphni – JIAOLONG
Mac DeMarco – 2
Evening Hymns – Spectral Dusk
Hannah Georgas – Hannah Georgas
Godspeed You! Black Emperor – 'Allelujah! Don't Bend! Ascend!
Chilly Gonzales – Solo Piano II
Jim Guthrie – Takes Time
Hayden – Us Alone
Zaki Ibrahim – Every Opposite
KEN mode – Entrench
Kid Koala – 12 bit Blues
Kobo Town – Jumbie in the Jukebox
Pierre Lapointe – Punkt
Lee Harvey Osmond – The Folk Sinner
Les soeurs Boulay – Le poids des confettis
Corb Lund – Cabin Fever
The Luyas – Animator
Majical Cloudz – Impersonator
Metric – Synthetica
METZ – METZ
Danny Michel with the Garifuna Collective – Black Birds Are Dancing Over Me
AC Newman – Shut Down The Streets
Old Man Luedecke – Tender is The Night
Lindi Ortega – Cigarettes & Truckstops
Peter Peter – Une version améliorée de la tristesse
Purity Ring – Shrines
Rah Rah – The Poet's Dead
Rhye – Woman
Daniel Romano – Come Cry With Me
Colin Stetson – New History Warfare Vol. 3: To See More Light
Suuns – Images du futur
Tegan and Sara – Heartthrob
Al Tuck – Stranger at the Wake
Whitehorse – The Fate of the World Depends On This Kiss
Young Galaxy – Ultramarine