MUSIC PREVIEW: Just a big list of cool stuff
Posted on June 20, 2013 By Michael Senchuk Entertainment, Front Slider, Music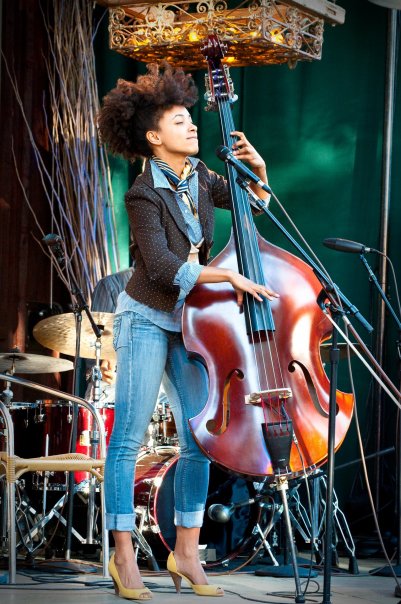 There are some major events going on over the next week, including the Edmonton International Jazz Festival with bass-wielding urban-jazz Goddess Esperanza Spalding on Tuesday, June 25; and the one and only Herbie Hancock on June 27, both at the Winspear Centre.
"Johnny Jazz Passes," conferring free admission to a myriad of other jazz fest shows not in the Winspear, are on sale for $99.
Or if you're into the blues, and let's face it, who isn't, the Beaumont Blues & Roots Festival goes all weekend just south of the city. Saturday's headliner is the Powder Blues Band – and you'd be hard-pressed to find a Canadian who was around during the early 1980's who can't still sing the chorus to "Doin' It Right (on the Wrong Side of Town)."  Other performers on Saturday include James Buddy Rogers, local phenom Alice Ko, Craig Cardiff, Katie Rox and Coldwater Road. David Wilcox takes the stage Sunday, along with Edmonton bands like Boogie Patrol, Graham Guest and Hot Cottage.
Entertainment coverage around this time of year turns into big lists of things.
Friday
Coldwater Road – Sad news about the Haven Social Club closing down, which just means you should go see as many shows in its cozy confines as you can in its last month. That would definitely include this Vancouver folk act, which was started by a couple of performers that were part of that city's burgeoning busking scene, Patrick Spencer and Alex Hauka. Katie Rox opens. 8 pm, $7 advance, $10 at the door.
Old Folks Home – This Winnipeg act takes a comfortable folk vibe and adds subtle textures of pop sensibility to create foot-tapping, head-swaying tunes that will make you want to join their fan club instantly. Though they probably don't have an official one. Consilience and Bombproof the Horses also perform. Wunderbar, 9 pm.
Willhorse – This B.C. act starts out with a Southern rock feel, but adds raw, guttural emotion with a strong folk songwriting ethos that sort of makes one think of both Saskatchewan's Deep Dark Woods, and the famed Mumford and Sons, simultaneously. Not to be missed, but if you do, you're in luck – they're also playing On the Rocks on Sunday night, and then are back in later July at Mercer Tavern. Brixx Bar & Grill, 9 pm, $10.
Saturday
Besnard Lakes – A trio of bands performing at Sled Island in Calgary will pop up to the road for shows in Edmonton at the Artery. Husband and wife duo Jace Lasek and Olga Goreas form the backbone of Besnard Lakes, who originally got their foothold in the music industry through production of artists like Wolf Parade and The Unicorns. Nominated twice for Polaris Prize, the act is based in rock, but also pulls in significant influences from shoegaze – which is a thing now, apparently – and "psych." The band July Talk, meanwhile, lies at the confluence of Americana and indie-dance-rock. And Toronto's Grounders weave indie rock tunes with pop overtures. Saturday 8 pm, show repeats Sunday at 6:30 pm. $12 advance.
Helix – This Canadian metal band is best known for their 1984 single "Rock You," which still holds up as a rocking song about rocking and being rocked. While the only remaining original member is lead vocalist Brian Vollmer, with the list of former members longer than the number of names on the Stanley Cup, they continue to pump out the music hard and loud, rocking you all the way. Casino Yellowhead. 9 pm, no cover. Show repeats Sunday at Casino Edmonton.
Tommy Banks and P.J. Perry – These guys invented jazz in Edmonton, and they're still going strong into their 70s, playing two sets at the – where else – Yardbird Suite. This is just one act among dozens at the Edmonton International Jazz Festival, running through June 30 at venues across town. 8 pm and 9:30 pm, $30 for one set, $49 for both.
Tuesday, June 25
Taylor Swift – To play not one, but two sold out shows in Edmonton usually requires a lengthy, solid career with significant hits off repeated albums. This young pop-country singer certainly has plenty of the latter, with hit singles on a variety of charts, including "Love Story," "You Belong With Me" and "We Are Never Getting Back Together." And while she certainly has her detractors, it's pretty hard to argue with four albums that have each gone at least double-platinum in Canada, or with seven Grammy Awards, and six American Country Music Awards. With opening act Joel Crouse, the show gets underway at 7 pm. Repeats Wednesday. SOLD OUT