FESTIVAL GUY: Crowds not a problem at Works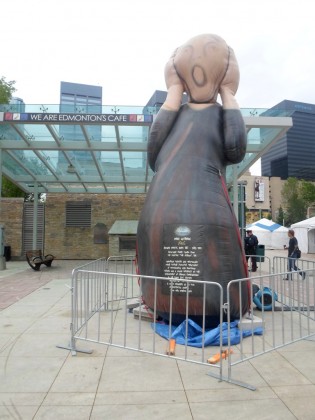 If Toronto put on a street festival that referenced Henry David Thoreau's dictum "It's not what you look at that matters, it's what you see" – the theme of this year's Works Art & Design Festival – you'd have people clamouring to try to catch a glimpse of Rob Ford smoking crack.
But this is Edmonton, so given the state of the weather on opening day, Thursday, June 20, there might have been a lot to see. There just wasn't anyone there to see it.
Guitarist Neusha Mofazzali of Saskatoon's Young Benjamins, an up and coming Canadian rock band with catchy, Northern Pikes-like songs and a violin, was up for the task of performing on the Works outdoor stage. He gave some deft words of encouragement to the late Thursday afternoon crowd of approximately 50 toughing out the weather.
"It's worse in Saskatoon," he said, as if anyone didn't already know that, "Compared to there, this is like Brazil."
A sure sign festival season is here again are the inflated prices for delicious greasy food available along the fringes of the site – like $6 for a Jalapeno Cheddar Smokie at Fat Franks. Aren't these things $4.50 everywhere else? Given the throngs of attendees who failed to turn up, this day was looking more break than make for vendors.
There were 22 of us in the beer garden (I counted) for the local performer Rebecca Lappa, who looked vaguely like a younger Loreena McKennitt, played songs in a Kate Bush style while singing like Sarah McLachlan. Her original material, including an a cappella rendition of a tune from her folk opera "The Earl," was skillfully and tastefully executed. She tipped her hand as a native Edmontonian, taking the unseasonable weather and underwhelming crowd in light hearted fashion over the course of her set. Edmontonians deal with the weather like Oilers fans:  hope for the best, then deal with the worst when it invariably arrives.
Visual art was to be had on the South end of the square, with an exhibit tent entitled Crip Tease Revisited, featuring visual art by Cindy Baker and Sharon Rusnack. Rusnack's piece is a sculpture entitled "Losing Hands," said to be a work commenting on the worry that deaf culture will disappear due to "the medicalization of deaf people." This sounded interesting. I was getting my voice recorder ready in anticipation of a potential interview when I looked around to see … absolutely no one around.
There were also few people around to see Mariena Wyman's sculptural collage "The Effect of Collected Memory on the Adorned Body," interesting for its unusual collection of pins mostly from Western Canada, some original, some not so much. While the town of Rockyford was represented, pins for the towns of Oyen and Provost went unaccounted for.
Somebody's got to pay for this thing, which is why they had to have the obligatory exhibit to tip the hat to all the corporate sponsors, whose economic pillaging of the already debt-burdened middle class does end up bringing a few rays of sunshine to the art underexposed masses. This was brought to form in "All About The Logo," a pretty transparent attempt to plug some of the sponsors by the Graphic Designers of Canada. Real artists must cringe when they walk past this exhibit. Amongst the works were logos for such organizations as Vancouver Botanical Sciences, University Wellness Services, and a place called "Palapa: Highly Intelligent Accounting." The piece de resistance was, unexpectedly, 2 Guys With Pipes. The writeup for this one was rather amusing, as it commented that the intent behind the logo was to try "to tap into a more professional clientele."
I thought I'd seen just about everything on the Square until I noticed the Big Tent up by the war memorial. Screening inside were a variety of short films by a number of local and international filmmakers, including a surprising number of aboriginal artists. The only people in the tent were me, a volunteer, a tall teen with a brush cut and a Testament t shirt and his shorter, more curly haired buddy. The two guys promptly left the tent upon my arrival, leaving me and the friendly elderly lady volunteer to watch Eric Bridgeman's "In The Project." A familiar piece of classical music made up the soundtrack, yet I was unable to name it. So I turned to my only company and asked her "is that Clair De Lune?" She replied, "No, that's Moonlight Sonata." Thank God somebody knew.
Bridgeman's film contained a man doing odd things dressed in something called a golliwog outfit; making him to appear to be a tall black man with shoulder length curly hair and clad in striped black and white '80s metal spandex pants. The film contained lots of red, white and blue although it didn't seem to have anything to do with the United States.
Emilio Rojas' short "Nationalism and Sports" meditated (to use an art word) on the subject of Canadian nationalism regarding sports. To a less astute observer, the film could be summarized as drunk Canadian men acting stupidly on Canada Day.  Whenever I see these guys – thankfully once a year – I generally put my head down and avoid all eye contact as they drunkenly shout nonsense into my ear. But apparently this cultural trend has artistic merit. The film was about five minutes too long and could have been served better thematically by meditating on the sad reality that our national identity is defined by two things: the sport of hockey, and a donut and coffee shop named after a hockey player. Maybe that will be the focus of the sequel.
Starting next was a film called "Never Surrender," which seemed to be a surrealist deconstruction of Corey Hart songs, but the soundtrack was drowned out when Young Benjamins started playing again outside.
Some life started to come into the Works festival as I left. There was more than a little merriment amongst the riders of the carousel constructed from discarded shopping carts. They have some good talent booked on the Works outdoor stage through July 2, a solid line-up of indie music programmed by local folk God Ben Sures. It sure would be nice if people came to see it. People may not have been here in any significant numbers for opening day, but those present did their best to ride out the weather as any hardy Edmontonians would. And like all outdoor festivals in Edmonton, the Works lives and dies by the weather.