Dance and rock cultures mingle at Boonstock festival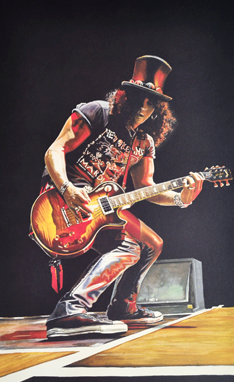 "Are you a rocker or a raver?" the Bear announcer asked the caller looking forward to Boonstock 2013 this weekend.
Amazingly, the caller replied that she's a little of both. She will rock out to such rockers as the Headstones, Godsmack, Sebastian Bach and Slash from Guns N' Roses, and then maybe paint herself blue for some fun in the "dance tent." The Bear announcer couldn't come up with the name of any of the all-star DJs appearing at the four day festival that starts Thursday in Gibbons, Alberta: Like superstar Swedish producer Eric Prydz – because very few Bear listeners have a clue who Eric Prydz is.
And there's the weird part of what the Edmonton Journal said was shaping up to be "the weirdest festival in Canada." The line-up is a dog's breakfast – "a mix of outdated bro-rock with current DJs and producers," said the Journal. Generally, the rock acts at Boonstock fall under the "active rock" category – that is, not old enough to be classic rock, too old to be modern rock – which of course is the jurisdiction of the Bear radio station. It's a sure bet the vast majority of Bear listeners have never been to an electronic music show, and in fact some openly disdain it.
On the other side, few hardcore ravers tend to listen to Godsmack, either.
And so these two disparate groups of people are thrown together under the blazing sun – or pouring rain, depending – for 70 bands and DJs over three days in a low-lying field in Northern Alberta for what is indeed is the weirdest festival in Canada.
Boonstock founder and producer Colin Kobza gets a little defensive about the label, but defends his eclectic booking decisions.
"There's two different cultures of music here, absolutely," he says. "That's the style of Boonstock. We've always had electronic music as part of the festival. The cross over between music today is so widespread and I think the two cultures mix very well. Now you can hear Dave Grohl mixed with electronic. You wouldn't hear that three or four years ago. I think it's interesting to see."
The random radio caller may have been an anomaly. But this festival has stuck to its weird mix in nine years Boonstock has been running. Booking the rap act Arrested Development at Lollapalooza in 1993 was considered a bold move at the time, and now combos of rap and rock are everywhere. Speaking of which, originally announced headliner Limp Bizkit pulled out to play dates in Russia, so there goes our outdated bro-rock. But Slash experiments with electronic music, and so did Korn, last year's Boonstock headliner.
There will be more "genre-shifting" at future Boonstocks, Kobza says.
"We've definitely found the direction we want the festival to go on, and in the next couple of years, I think people are going to be seeing a pretty interesting mix."