A COMIC IN ALL SERIOUSNESS: Kenny V in High River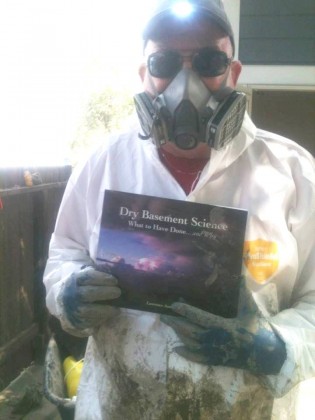 Hack comics making jokes – too soon! – about it being "no wonder they call it High River" would not go over well with Edmonton stand-up comic Ken Valgardson. He's in High River, living in a tent by the same river that flooded the town on June 20. He's helping his cousin dispose of almost every single possession the family ever owned.
"Try doing that joke in this town," Valgardson says. "Some of those unsecured guns might be used on you."
Thousands of refugees just 45 minutes down the road from Calgary are only now in the first stages of a very long and nasty clean-up. Some of the town of 13,000 is still under water. The dilemma is that when someone in a small town needs help, neighbours band together to help, but what do you do when every single family needs help?
Shortly before his final day of teaching Grade 9 in the Battle River district (more on that in a moment), Valgardson saw helicopter footage on YouTube – and there was his beloved cousin's house half under water. He knew what he had to do. They weren't allowed back until 10 days after the evacuation, and while they had little time to take anything with them, they had time to gather hazmat suits, respirators and other gear for what they knew would be an ugly aftermath.
"Absolute destruction," Valgardson says. "The railroad tracks and the bridge had trees all over then. One house had 10 motorboats shoved into it. There's silt all over the town and there's sewage in it too, parasites, bacteria, and that fine silt becomes a dust that flies around. I call it poo dust. You pretty well need a mask just to go into town and then you go into the house and the whole basement is full of sewage."
Little details you don't often hear about in news stories include the fridges – thousands of them left in the heat without power for 10 days and filled with rotting food had to be taped up and hauled away. Black mold infected almost everything else. The cousin's daughter Caitland Valgardson says, "My parents are throwing out literally everything they've worked for in their lives."
There are frustrations adding to the misery, says the family: Over the people who defied the evacuation order, which caused delays; over the government that in their inspections of flooded homes happened to come across some unregistered firearms, which were seized; over the "tragedy tourists" who come to gawk and offer nothing in return, causing traffic jams; and of course the media. As Caitland puts it, "An entire community of people is completely devastated by this huge flood and the first story on the news every night is about the Calgary Stampede. Today I watched an 80-year-old man lugging buckets of water up the stairs from his basement. He didn't have anyone to help him."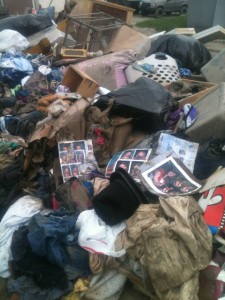 They are quick to point out that the volunteers have been tremendous – from anyone offering sandwiches to trying to find someone to freeze-dry important documents soaked in stinky muck. "We were turning people away at one point," says Ken. It's the tragedy tourists he wishes would get infested with rectal parasites, or unprintable words to that effect.
"We've been having some pretty good belly laughs," says the man who's devoted at least half of his career to making people laugh. "There's lots of tears. Put it this way: If it's a fire, it's gone. Here you're pulling all the stuff out and you have to look at it: Grad pictures, baby pictures, the family's having a tough go, But every once in a whole we get a gem out of there. We found a book called 'The Science of Dry Basements.' We died laughing. We had to."
Kenny V has had an interesting month. On record for opposing the No Zeros policy, he also opposed his own school district's decision to take it even further: No marks at all. As a contract teacher in drama and biology, he had to reapply for his own job, and didn't get even get an interview, he says, possibly ending his teaching career. Upon being given the news, his Grade Nine class stood on their desks to shout "O Captain! My Captain!" (except for one kid who had never heard of Dead Poet's Society). Valgardson swears this really happened.
Since comedians write what they know, there will be some comedy to come out of all of this eventually, he says. The only problem now is that "there's no punch-line."
(Click HERE for information on how to help out in High River)