Pearl Jam to play Calgary Saddledome in December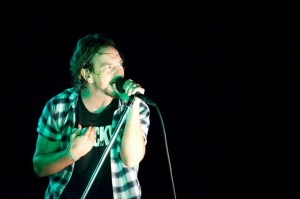 The Saddledome WILL be cleaned up in time for Pearl Jam's December 2 date in Calgary.
There is no Edmonton date on this new tour announced Monday, after a mysterious "countdown clock" ran down on the band's website, but given the flood-related Albertan solidarity demonstrated over the last couple of weeks, we're not going to whine too much. May even have to make a pilgrimage. The only other Canadian date is Vancouver on Dec. 4. Tickets go on sale Saturday, July 27.
There was great excitement in 2011 when Pearl Jam came to Edmonton as part of its 20th anniversary tour. It was a wonderful show that lived up to every bit of hype. No frills. Just rock. Critics rated it "Twenty out of 10," which is mathematically impossible, but whatever. The Mayor may have well declared it "Pearl Jam Week" in Edmonton, as the locals were all a-Twitter over Eddie Vedder sightings, including a good one at the (now defunct) New City Compound where he sat in with his old pals in Mudhoney. Observers remarked that the awesomely talented Vedder is kind of a wee man, like the Bono of grunge rock. What's with that rock superstar short stature thing, anyway? Probably coincidence.
The new Pearl Jam album is said to be "almost done." It, too, will be cleaned up in time for the show.