MUSIC PREVIEW: Party all nite, rock every day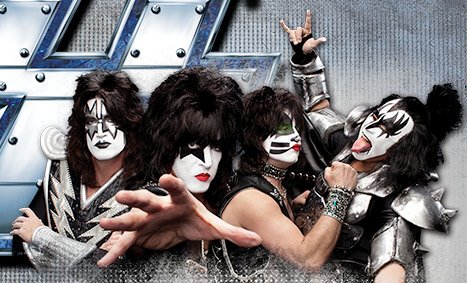 Many of the kids who flocked to KISS back in the day now have kids of their own – which is why Friday night's triumphant return of the aging painted wonders at Rexall Place is expected to be a real family affair.
If you're getting painted up – and hey, who isn't? – keep in mind that Gene Simmons' "Demon" is the coolest, followed closely by Paul Stanley's "Starchild" get up, because while Ace Frehley's "Spaceman" is pretty cool, neither Ace nor drummer Peter Criss – whose "Catman" enjoyed limited popularity among girls – aren't even in the band anymore. No one's really whining about that (aside from maybe Ace and Peter, of course), nor are legions of fans that span the generations back to the founding in 1973 scratch their heads over the band's iconic song "Rock and Roll All Nite (and Party Every Day)" thinking that it should be the other way around, or that Rocking and Partying should be synonymous, day or night.
There are some tickets still remaining at Ticketmaster.
Meanwhile, the local arts community continues to support flood relief efforts in the south, and this weekend might be the capper on all of it, as Alberta Music and the Starlite Room present a two-night affair starting Thursday night, with 100% of the proceeds to benefit the Alberta Arts Flood Rebuild Fund. The lineup is no less than stellar, featuring some of the very best musicians that Alberta's two largest cities have to offer. Thursday night things get underway utilizing two floors of the Starlite Room. The upper floor features the uber-talented urban-bluesy Nuela Charles, and alt-blues quartet Unwed Mothers, who released their newest album in April. The upstairs stage will also host Cayley Thomas, Windigo, Jocelyn & Lisa, Misery Mountain Boys, The Gibson Block, and Joe Nolan. Downstairs the Brixx stage will see pianist-extraordinaire Jenie Thai and alt-pop sensations Picture the Ocean featured, as well as Jey Witten, Mikey Maybe, Mitchmatic, Revenge Of the Trees, and Jung People.
On Friday night, the Starlite Room will feature another band that was in Gig City's top five Edmonton albums of 2012 – Scenic Route To Alaska – as well as Calgary's sensational Boreal Sons. Also on the bill from Edmonton are Catgut, George Ireland And the Willy Nillies, and Democrafunk. Calgary artists include Tanner James, SAVK, Bleachers, and Go For the Eyes.
The music gets underway both evenings at 8 pm, with doors opening at 7pm. Tickets are $20.
Friday
Snow White's Poison Bite – The heaviest bands have the best names, don't they? This post-hardcore-horror-punk-metal combo from Finland was founded in 2007, four years after which three-quarters of its lineup quit, leaving frontman Allan Cotterill to soldier on with new members. Also on the bill are Kissing Candice, Any Last Regrets, Chomp Chomp Attack, Echoes Of Apathy, Farewell My Love, and Underalice. Such great band names. Studio Music Foundation, 7 pm. Advance tickets are $10, or $15 at the door.
Nazareth – Apparently this is an evening full of old-school rock, as this Scottish hard rock act plays a sold out show at Century Casino. They were formed even before KISS, if you can believe it (in 1968) and somewhat similar to KISS in that lead vocalist Dan McCafferty and bassist Pete Angrew have remained in the band since its inception. Their songs never reached No. 1, but "Love Hurts" – you're already singing it, aren't you? – topped the charts in Canada back in 1975. 8 pm.
Saturday
Pat Benatar – To cap off a weekend of the most classic of classic rock, the second coolest rock chick ever (behind Joan Jett) roars into Edmonton this weekend to hit us with her best shot and tell us how "Love Is A Battlefield," along with her long-time guitarist, producer, and husband Neil Giraldo. River Cree Resort and Casino, 6 pm. This, too, is SOLD OUT
– With files from Mike Ross