KISS for Kids – next generation to rock and roll all nite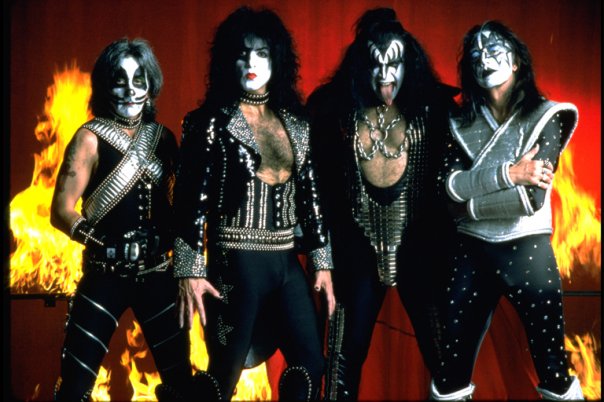 Surprisingly, there weren't a lot of children at the recent KISS concert in Edmonton – unlike the Love Gun tour in the same building 36 years ago, or the recent Rush concert, which was a regular father-and-son affair. But there was still ample evidence of youth being corrupted by hardcore members of the KISS Army old enough to have spawned KISS fans of their own, and proud enough of KISS to deem it worthy of passing on to the next generation. God help us all.
To test if this uniquely silly and excessive brand of rock and roll music about rocking and rolling holds up in 2013, some children of our acquaintance were dragged to what turned out to be an "awesome" concert at Rexall Place on July 12. Some unfiltered observations:
Why are there so many drunk people? What's that smell?
Never mind. What was your favourite part of the show?
Getting drenched in confetti!
What about the fireworks?
Yeah, the fireworks!
Grossest part of the show: When the guy spit blood out of his tongue. It was all over his shirt.
It's not real blood.
I know. It's just part of the show.
Favourite band member: The kitty!
Didn't you like the demon?
Yeah, the demon. I liked the part where he spit blood.
Favourite song: (Sings)
That would be "I Was Made for Lovin' You."
Another favourite song: Lick it up, that was funny.
Funny? Why?
Lick it up, you know, licking their private parts?
What?!
T-Shirt spotted: "One, two, fuck you."
What does "fuck" mean?
The word has many different meanings. Hey, look over there – isn't that Gene Simmons getting into his limo?
Overall review: It was great.
Can you go into more detail?
It was awesome.
Are you more into rock 'n' roll now than you were before?
Yeah, rock and roll all night and party all day!
That would be party EVERY day.