FILM: Hollywood in our backyard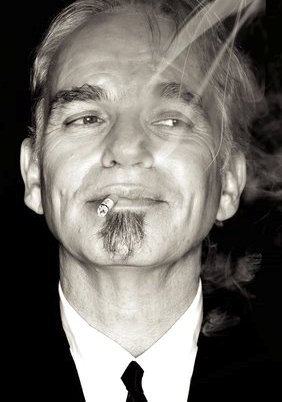 Billy Bob Thornton was spotted outside of London Drugs in West Edmonton Mall a few weeks ago. He was in the area filming the crime thriller "Cut Bank," about a small town Montana boy in the wrong place at the wrong time. John Malkovich co-stars.
As Billy Bob left the store, he looked like he was lost, so I struck up a conversation as if we were old pals.
"Hey, Billy Bob!"
"Hey, how are you?" he politely asked with a slight Southern drawl.
"Great, how's the movie going?"
"Really good. We're shooting up near Fort Saskatchewan, do you know it?"
I do, but I wanted to know something that was burning a hole in the back of my mind. I narrowed my eyes and asked, "So what's it like working with John Malkovich?"
Billy Bob seemed like a nice guy, but after that question his demeanour changed slightly and I remembered the ego trip he laid on Jian Ghomeshi in 2009. The interview turned ugly when the CBC host went on about acting when Billy Bob really wanted to talk about his band. I smiled and hoped for the best.
"It's great," he said. "We have a very similar approach to acting -working with him is like a hand fitting a glove." Strange analogy – but who cares? It was Billy Bob Thornton in West Edmonton Mall talking about working with John Malkovich.
The chance encounter raised a question – what other celebrities are lurking around Alberta waiting to be discovered outside your neighbourhood drugstore? And why are they here? Sam Shepard has been hanging around Calgary while he shoots the fictional mini-series "Klondike" for the Discovery Channel. Miley Cyrus was recently in Edmonton visiting Liam Hemsworth on the set of Cut Bank. Hilary Duff was here because her boyfriend plays professional hockey. And there were Malkovich sightings at the Oliver Safeway and a local dry cleaner.
There are a number of good reasons for Hollywood producers to film in Alberta: Lots of good locations to choose from, tax incentives, and trained film crew members who are available and willing to work. It's been a good year so far.
"It seems to be a little bit of an exciting time right now," says Alberta Minister of Culture Heather Klimchuk. "The film industry in Alberta employs around 3,000 people every year and we have earned 57 Oscar and 92 Emmy nominations since 1948. That's more than any other jurisdiction in Canada."
According to Klimchuk, the government has been quietly selling our culture of film, and it's been working. Over the last five years alone the industry has generated about 400 million dollars. A film incentive program set up by the provincial government has been enticing both independent and big budget productions to come to Alberta. Film Alberta offers funding incentives, makes connections with seasoned film crews and promotes a diverse range of shooting locations from the Rocky Mountains to the golden plains.
"Alberta has a lot to offer – personally I think we don't pound our chests enough," Klimchuk says.
Movies such as Legends of the Fall, Unforgiven, Inception, Brokeback Mountain, and many others have been shot in the province. We seem to be good for Westerns. Brad Pitt stayed in Edmonton while he was filming The Assassination of Jesse James at Fort Edmonton Park in 2006. His future wife Angelina Jolie – and here's another Billy Bob connection – was in town, too.
And with more projects in the future, Klimchuk predicts, there will be more star encounters.
Smaller films bring actors into Alberta, too. Independent film producer Katrina Beatty works at the Film and Video Arts Association (FAVA) and is happy to recall some of the less famous actors she's come across: "One feature that I produced was called 'I Think I Do' which was a made for TV movie and it starred Mia Kirshner who was the star of 'The L Word' for five seasons, and I just finished shooting 'Sex and Sunsets' with Ryan Kwanten who's the guy from 'True Blood.'"
FAVA works within the Edmonton community to help film enthusiasts, aspiring filmmakers, and independent filmmakers produce their work. They can set you up with a camera or gear, get you a mentor to show you how to use it, or offer you a class in filmmaking so you can get the ball rolling yourself.
"All of the staff here at FAVA are active filmmakers themselves. We feel we are the most beneficial to the community the more often we are working in the community," Beatty explains. "We need to give other filmmakers more excuses to stay here."
Some of these chance star encounters can be inspiring to someone with acting aspirations. Angelique Panther, who recently graduated from the U of A's acting program, happened to be working as waitress at the River Café in Calgary where Sam Shepard liked to dine.
"I told him I just completed my degree and wondered what the real thing was like, he told me about Klondike and asked me if I wanted to come on set the next day, so I went," Panther says. Shepard turned out to be a gracious host. "I wanted hot chocolate and when Sam found out he went on a mission to find me some. He is a really neat guy who pokes fun at his co-actors and director. He's down to Earth and really chill."
Waitress Samantha Duff, who's also an aspiring actor, happened to serve Vince Vaughn at a café in Okotoks recently. He is one of a number of movie stars who are spotted around Alberta as a matter of course – they have family here. Vaughn is married to Calgary real estate agent Kyla Weber.
"She was very pregnant when I served her," Duff says. "It looked like she would be popping any day now."
The baby is due in August.