FESTIVAL GUY: Taste of Edmonton satisfies relish for adventure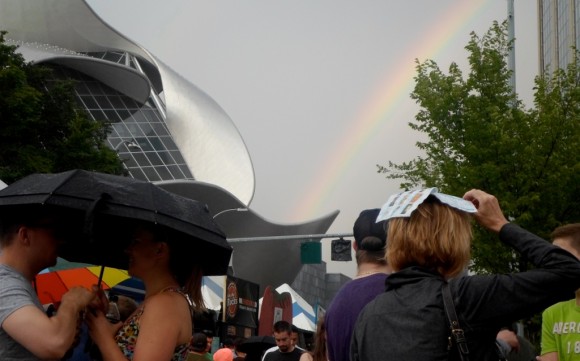 Much like Edmonton's weather, The Taste of Edmonton had become predictable these last few years. Green onion cakes? Can't not have those. Chocolate covered strawberries? Big seller. Ginger Beef? Can't miss it. I understand the need to play to the masses. Someone has to like Justin Bieber. But do organizers think that the same 500,000 people keep attending the festival year after year?
Don't answer that. This year, things have changed – a bit.  Organizers have done a respectable job of getting new food items into circulation. Of 84 dishes for sale, about 32 are said to be new. The event runs in Churchill Square through July 29.
Exotic old favourites are still a big hit, of course. The sumptuous lemongrass beef skewer from Hoang Long Vietnamese Restaurant and the crispy veggie tempura from Korean Village Restaurant are longtime personal favourites – and there were long line-ups for both. There must be studies detailing how deep fryers ruin the nutritional benefits of vegetables, but I was too interested in soaking this heavily battered glop of goodness with tempura sauce to look into it. Delicious.
There are plenty of food options for the more adventurous, including updated standbys from new vendors. The Mediterranean Bruschetta from Bistecca Italian Steakhouse is a flavourful little item of halved cherry tomatoes, some cheese I could not identify, and not much else. It was served on crusty French bread, you know, the traditional way.
Creating meat-flavoured non-meat products is a fine skill, and Padmanadi Vegetarian Restaurant proves to be masters of the art with its Vegan Sweet Chili Chicken and Vegan Chicken Drumsticks – the latter much better than the alleged real chicken ones from KFC, without any need for the 11 secret herbs and spices.
Taste of Edmonton implemented a new pricing system this year by allowing vendors to sell a smaller serving for fewer tickets. The "steal of the festival" prize goes to Lemon Heaven, which sells a 12-ounce lemonade for three tickets and twice that amount for four – enough to split with a friend. Seizing the day to save a buck is crucial here, because you'll need it if you're going to Klondike Days.
Sutton Place Hotel takes a prize this year for its original choice to publish the list of ingredients in its cappuccino chocolate shooter – 32 is a remarkable number of ingredients for such a tiny item, causing me to wonder if the price of all the chemicals together was worth more than the chocolate.  "That one," said my educated friend, pointing to the words "propylene glycol … is a component in antifreeze." I only experienced the sensation of rich gooey dark chocolate goodness wafting amicably across my palate. The marvels of modern science.
And the award for culinary originality has be to awarded to Czech Restaurant Bistro Praha, due to their decision to serve….. Hungarian Sausage?
"Because in Czech we don't make sausage, the Hungarians do," was the prosaic answer from the tent staffer. Whatever country it came from, the dish was fantastic, with a simple yet elegant economy to the food presentation.
There is plenty of eclectic live dinner music at Taste of Edmonton to go with your eclectic dinner – any time of day. The entertainment options on the Remax Stage span a wide range of musical styles. One of the highlights on opening day was Vancouver's Hey Ocean! By the time the band was done, they had won the crowd over with a highly original blend of reggae tinged, prog-rock fueled, funked-up folky pop. Lead singer and flautist Ashleigh Ball would have out Ian Anderson'ed Jethro Tull. The remainder of the band were no slouches either, with bassist David Vertesi commanding the stage like a much younger, much more stylishly dressed Jay Semko.
Upcoming headliners include Tim Hus on July 23, Mitchmatic on July 24, and Maracujah! on July 26. Click here for the band schedule.
Originality at events like this are a pipe dream even to the most optimistic, but a fine balance was accomplished to satisfy a little bit of every person's taste in Edmonton. Hence the name.