MAIMANN ABROAD: Ultra Europe Festival how raves should be done
SPLIT, CROATIA – Picture Kim Jong-un dancing in the grass, donning a North Korean flag next to Barack Obama, who's all smiles as he hammers out a deal with Mahmoud Ahmadinejad over a vodka-Red Bull.
Despite Electronic Dance Music's staunch apolitical nature, a party like this year's Ultra Europe Festival in Croatia could be just the thing to unite our bickering world leaders.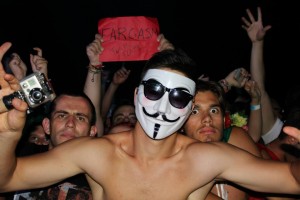 The show of unity and good vibes at the massive electronic music festival this month – it drew more than 103,000 fans to the Eastern European country, coming from a staggering 75-plus countries – was something to admire. Music fans were proud to rep their homelands, donning flags from Brazil, Norway, Australia, the U.S., Israel, Albania, Jamaica and countless more. I ran into at least a dozen Canadians, including a group from my hometown of Edmonton.
Poljud Stadium, home of Split's beloved 102-year-old soccer team Hajduk, kept thousands dancing in the hot sun and right through the nights on July 12 and 13.
The stadium filled gradually on the Friday afternoon, with Sander Van Doorn taking the stage at prime time after dark, followed by a killer set from Porter Robinson and heavy hitters Knife Party, Fedde Le Grand, Nicky Romero and Sweden's Avicii, who've scored massive global hits with Levels and I Could Be the One.
As dawn broke during Romero's closing set, the creeping sunshine revealed smiles all around before fans peacefully filed out into the streets.
Saturday's lineup brought another hard-driving schedule from a who's who in the industry: Chase and Status, Krewella, Bingo Players, Afrojack, Hardwell and Holland's Armin Van Buuren (for whom Split's airport, not used to the traffic, opened an hour early to accommodate a 5 a.m. jet ride), plus others playing side stages on the stadium grounds.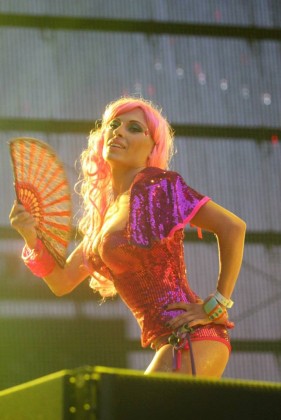 Audience members continued to bounce along with wild costumes, face paint and revealing outfits, screaming in the front row and cheering wildly for the pyrotechnics, intense stage lighting and professional dancers.
Also on Saturday's bill was 18-year-old Madrid sensation Danny Avila, a classically trained pianist, violinist and guitarist who said he was honoured to play at the first Ultra Europe.
"Ultra Music Festival is definitely one of the best festivals in the world," Avila said after his Saturday set, before leaving to catch an 8 a.m. flight to his residence in Las Vegas. "The production is just great and the effort that they put in is incredible … I think every single DJ in the world wants to play that festival."
Ultra originated in Miami, Florida in 1999 and runs annually in various locations. Its expansion to the small city of Split (population 350,000) was an interesting move that paid off, reaching an even broader international audience with 700,000 viewers worldwide for its UFM TV online broadcast.
Electronic music receives a lot of negative press in North America, driven partly by paranoid politicians who will never understand what these crazy youngsters are up to, but there are few places where I'd feel more safe than at a festival like Ultra. However, as one Ultra attendee from Calgary noted, Edmonton fans do seem to act and dress a little more wild more in our home city, where Coun. Dave Loken and others have suggested banning raves. That seems to be the case in Miami as well, where city commissioner and noted square Marc Sarnoff tried to axe the second Ultra weekend this year, saying in a city meeting that he figured "about 70 to 80 percent of these kids are on some sort of mind-altering drug."
Fans at Ultra, while clearly excited and clamouring at the many photographers to have their picture taken, seemed more sober than most would expect. Local police said fans were very well-behaved for such a large event, while restaurant owners and taxi drivers I spoke with seemed pleased with the influx of business.
The weekend's lineup provided little ebb and flow, opting instead for a nonstop electronic dance music assault, and a few popular songs were remixed by multiple artists, sometimes on the same night. As a casual EDM fan, the repetition can be a bit exhausting. While the atmosphere alone would leave anyone feeling nearly euphoric, a little more artistic risk and experimentation would have been a welcome addition. That said, the approach worked for the vast majority of audience members, who seemed just as happy to sing along to Macklemore and Ryan Lewis' Can't Hold Us the third time it was remixed as they did the first time.
The insanity hit its peak during the afterparty show on the Sunday, headlined by American punk rocker-turned DJ/entrepreneur Steve Aoki, which brought a much more intimate crowd of 5,000 to splash and flail during a Pool Party at the posh Hotel Amfara on Hvar island.
It's always hard to believe Europe can make room for a newcomer with its embarrassment of music festival riches, but Ultra proved once again the continent's hunger for these events is insatiable. It makes one wonder whether Edmonton, with a population more than double that of Split, could pull off a similar coup. A Washington Economics Group study, commissioned by Ultra, found the Florida festival generates nearly $80 million annually for the U.S. economy, money we could surely use. Hey Boodang, how about Elements 2014 at Commonwealth Stadium? We're pretty sure Kerry Diotte would approve.