The Full Mountie revives Klondike at Fort Edmonton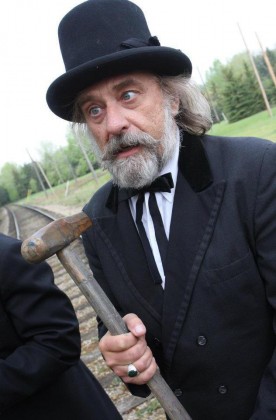 All days are Klondike Days at Fort Edmonton Park – and so it's a natural that the first idea the new artistic director Dana Andersen came up with would be an improvised Klondike melodrama.
Pity it comes AFTER Klondike Days is over. The Full Mountie, playing Aug. 1-3 at the Capitol Theatre and performed by the members of the award-winning Die-Nasty comedy troupe, is not only historically accurate, "It's hysterically accurate!" Andersen declares. Go ahead and imagine him stroking his beard as he says this. Likewise SCTV's Joe Flaherty, who will be guest starring as the Klondikey villain yet to be named, possibly based on a real person from Edmonton's past.
Guarantee: Despite The Full Mountie title, there will be no full-frontal male nudity in this show, and the copyright holders of the RCMP imagery (used to be Disney) needn't worry because it will all be very respectful.
"The RCMP will always come out looking like the good guys," Andersen promises. Think Dudley Do-Right.
Overseeing all the entertainment at Fort Edmonton is a dream job for a local history buff born and raised here. Andersen remembers fondly how his parents dressed him up in Klondike attire, back in the day. He's since become one of Edmonton's top comic minds, and has been improvising, acting and making films for decades. He jumped at the chance at what turned out to be a last minute gig, he says, explaining why The Full Mountie didn't run during Klondike Days. He's been busy studying the Fort lore and layout, boning up on 1920s lingo as the new impresario of the Capitol Theatre, which was once the home of the vaudeville troupe known as the "Capitolians," which eventually turned into the Edmonton Symphony Orchestra, and so on. Lots to learn here.
One thing Andersen knows already: "My goal is to just bring back Klondike Days!"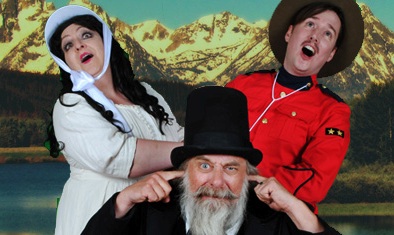 Bosh on the flapdoodle that Edmonton wasn't really part of the Klondike, he says: "When the legend becomes fact, print the legend." He points out that the gold rush connection is even stronger today than it used to be. Edmonton is still allegedly the gateway to the promise of quick wealth – just a few hours up Highway 63.
"It still serves the same purpose," he says. "Klondike Days was something I grew up with. It was tradition. And Edmonton remains the gateway town – in comparison to the metaphor of the gold rush, now there's a gold rush to Fort McMurray."
Staff at Fort Edmonton Park are careful to give visitors an authentic historical experience. Anachronisms are avoided, new cars banned. You can explore the lives of fur traders, cowboys or flappers, depending on what section of the park you're wandering around in. In addition to programming at the 1920s-era Capitol Theatre, Andersen will also be working in drama training with the costumed interpretive guides around the park, giving backstory to their characters based on real life – "so they get a little more involved than just reciting a script," he says.
Fort Edmonton even has an old-fashioned midway far less crowded than the one recently seen at Northlands. So to return Edmonton's annual summer fair to its rightful theme might be as simple as getting Fort Edmonton involved. Hello, Northlands?
"The way it is now is pointless," Andersen says. "A theme would gives Edmonton an interesting take on its place in the world. It's like rock 'n' roll. It's just a different interpretation of the times."
Exactly. Cleveland isn't exactly the heart of rock 'n' roll, but that's where the Rock and Roll Hall of Fame is – and right there is that city's place in rock 'n' roll history.