Fred Larose was a 'musician's musician'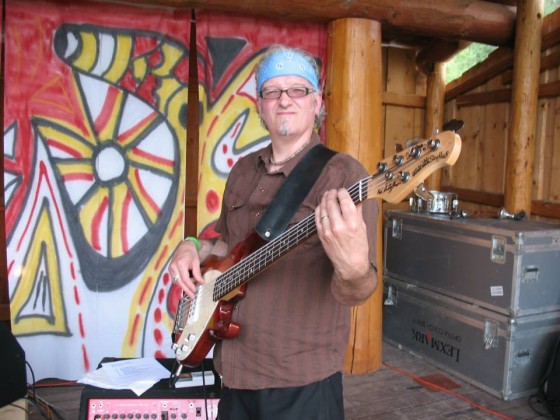 Fred Larose didn't live to see his own name in lights, but he probably wouldn't have wanted it there anyway. His legacy will be as a prince among sidemen – the unassuming, rock-steady, hard-working bass player who holds down the crucial bottom end and puts his gifts to the service of making others sound great. He was a "musician's musician," as the rare praise goes. A lot of Alberta music stars simply wouldn't be where they are today without him.
Larose, a mainstay in Edmonton's roots and country music scene for the last 40 years, died Tuesday evening after a long battle with cancer. He was 59.
It would be hard to find a country musician in this province who was more than one step removed from Larose's influence. Emmylou Harris and k.d. lang are two of the more famous stars he's played with, as the house bassist on the '80s TV series Sun Country, hosted by Ian Tyson. He had his own band, The Trucks, did a ton of studio work, and met just about every player in town as the host of a popular area open stage at LB's Pub. He toured the world with people like Laura Vinson, his cousin Crystal Plamondon, Joanne and Haley Myrol, and with local bluesman Rusty Reed. Given the outpouring of tributes on social media since his death, it would be safe to say that Larose played with everybody who is anybody in Alberta's roots music scene. At a 2012 benefit organized by his close friend Rusty Reed, there were more musicians who wanted to play than could get on the bill.
Reed and LaRose toured together for more than 25 years, off and on. There were lots of adventures, among them a penchant for chess in the van – until the drummer who was driving nearly got them all killed – and Chinese cookery. LaRose, it turns out, was a pretty decent road chef, on top of everything else.
Reed says he learned a lot from him. "I'm one of those guys who sometimes have to learn the hard way," he says. "Fred was always there to tell me the right way – and I'm going to miss that."
Others echo this sentiment. Local singer and soundman Andrew White says Larose was "one of the only cats who would ever be straight with me about what I needed to do better to be a competent player and performer."
Joanne and Haley Myrol, who recorded in Nashville and toured Europe with Larose a number of times, remember that he would drive the vehicle, load the gear, set up the gear, run the soundchecks, do promotion, you name it, and if you needed a stool for your glass of water, he would get it for you.
"All I can say is that when Fred was doing a show, we didn't ever have to worry about anything," Joanne says.
Rusty Reed concurs, "You just knew everything was going to be all right when you were with Fred Larose."
Larose didn't want a funeral, according to Reed, "He wanted a party," which will take place at The Ranch Roadhouse (6107 104 Street) on Sunday, Aug. 25 from 2-11 pm. The Myrols are also helping to start a musician's benevolent fund that will be used to support other area musicians who fall ill in the future, for there is no health plan when you're a musician.