MUSIC: No soapbox on jazz crossover from activist folk singer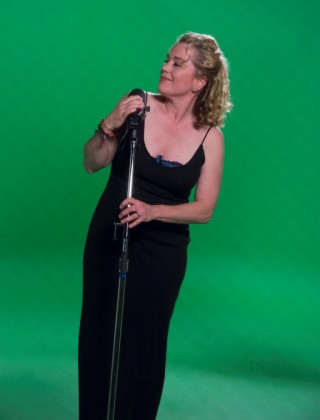 A folk singer has made a jazz record – is this news?
Maybe it ought to be. It doesn't seem to happen very often. Dale Ladouceur, Edmonton singer, songwriter, producer and the city's chief practitioner of the 10-stringed "Chapman Stick," says she didn't plan for her latest album to be so, you know, "jazzy."
But what does she expect? On "Do Ya Think" – released with a show at the Roxy Theatre on Saturday, Aug. 3 – she's surrounded herself with jazzmen: Brett Miles, Bob Tildesley and Dave Babcock on horns, for starters, forming part of her band, the Broke Ensemble, with husband-drummer Bill Hobson and guitarist Barrie Nighswander. The icing on the cake is the new video for the title track that paints Ladouceur as the classic Satin Doll jazz chanteuse – a radical departure from the image she used to have as a tree-hugging hippie flower child.
"The director (Ben Babchishin) talked me into wearing a black dress," she explains. "That was a mere fleeting moment."
In a business where image means a lot and big things can happen in fleeting moments, this is significant – but when you dig a little deeper, the black dress is just window dressing.
Do Ya Think is all over the place. There are jazz instrumentals, but also bluesy numbers, new-age experiments, Zappa-ish rockers, folk songs straight out of A Mighty Wind, and funky turntable scratchery from DJ Dice. A distinctive voice holds it together. Think Joan Baez meets Joni Mitchell (and there may be other Joans to compare her to). It's folk music if only because of the political content.
Lest one fears it be preachy, Ladouceur has made another important change to her approach: She's ditched the soapbox.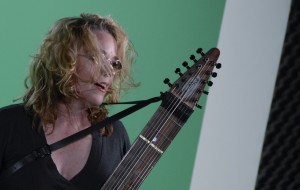 She says, "I use to carry it around in my 20s. And it was really through having good friends share with me, 'Dale, you're not doing yourself or anybody else any favours by spewing all these facts about climate change.' I really had to learn that the soapbox thing is not the way to go. I think comedy is the best way to deal with it."
Why comedy?
"I think why that's so effective is that you know that old saying: if you're not outraged, you're not paying attention? I think because we've maxed out so much on so much injustice in the world that you have to release. I much prefer laughing to crying."
So there are targets of outrage on the album, but they're treated with as light a touch as possible given the topics. Big Pharma – busy coming up with new diseases they can sell remedies for – takes a hit in Warmin' Glad, for instance, but it's all very tongue in cheek: "Gonna sell you what you wanna feel about everything!" There's a Spanish sort of sound on the instrumental Bull Fighters, dedicated to her favourite bullshit-fighting humourists, naming two: The Daily Show's Jon Stewart and Scott Feschuk from Maclean's magazine. And Little Prophets is about … well, the artist would just as soon let the listener decide.
"I'm a political animal," says Ladouceur, who became a mother 10 years ago. "I'm also a sexual animal. There's also a lot of sex in the album. I bring that up only because as a musician you write what you feel, you write what you live. Climate change and Big Pharma and all that shit does concern me – especially now that I have a little life form that is going to inherit whatever she inherits – so anybody that cares about the beauty of the world, we're living in interesting time. Being a musician, being an artist of any kind, I'm sure these things find their way into their art one way or another."
Tickets to the show are $10 ($25 with CD) and available in advance by calling 780.453.2440.
(Photos by Tracy Grabowski)