MUSIC PREVIEW: Surrounded on all sides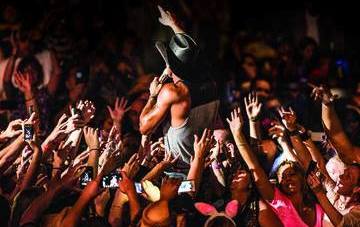 The region is now in the epicentre of the perfect storm of festival season. Vast musical gatherings are surrounding the city on all sides. The long range forecast calls for more festivals of all kinds – at least until school starts – so the public is urged to take proper measures. Step 1: Which one will you choose?
Big Valley Jamboree
One of the biggest music festivals in the region all year, this hot country hoedown in Camrose rarely disappoints. It's an all-out party from start to finish with some of the biggest names in country music. Friday night stars Alan Jackson, Rosanne Cash, Gord Bamford and The Mavericks. Saturday features Travis Tritt and Luke Bryan on the main stage, and Captain Tractor in the late-night saloon, not exactly a country band, but this saloon has long been a venue for a lot of up-and-coming area acts from a number of difference genres. Tim McGraw will close the main stage with a bang on Sunday, warmed up by the likes of Canada's own Terri Clark and country-hip hop hybrid Big & Rich.
Spread over four days and two venues, you'll be able to see at least 12 hours of music every day – and we didn't even mention the non-stop party happening in certain areas of the campground. Oh, right, we did. This event is SOLD OUT.
Blueberry Bluegrass & Country Music Festival
This annual Stony Plain tradition has featured some of the best bluegrass pickers in the business since its inaugural run back in 1985. This year's lineup is no exception, and most of the performers will have more than one set over the three days, so if you happen to miss one set you should still be able to catch your favorite artist, or for a second time, if you wish.
Kentucky-born multi-instrumentalist Ricky Skaggs is the biggest name this year. He evolved from a country background into a bluegrass and more experimental artist, and is one on a small, elite list of musicians who have played the Big Valley Jamboree, the folk fest and the bluegrass festival. He is, as fans know, one HELL of a picker. Also at this festival are The Whites, The Boxcars, Junior Sisk, Spinney Brothers, Jeff Scroggins & Colorado and Alberta's own Lisa Hewitt. Weekend passes are $135; single day tickets are $55. Camping passes are also available. Friday starts up about 1 pm; Saturday and Sunday things get going around 9:30 am. Click here for details.
Golden West Music Fest
A heavy contingent of local indie talent will be playing out in Ardmore, Alberta (18 km East of Bonnyville) this weekend. It's a bit of a drive (directions here) but it's definitely worth consideration.
Spread over three days on a "family-owned farm, surrounded by pasture, wheat fields, old farm equipment and livestock," acts will continue until about midnight every night, with things getting underway about 8 pm on Friday, and 1:30 pm Saturday and Sunday. Field + Stream, Camembert, Black Mastiff and The Get Down play Friday. Saturday's lineup features three of Edmonton's most talented multi-genre musicians – Mikey Maybe, Mitchmatic, and Renny Wilson. And Sunday finishes off with SLATES, The Sorels and Brazilian Money. Plus many, many more, of course. There's no power, no pets, no showers, but with this kind of talent, who cares? Three day passes are just $60, and include camping.
Bermuda
If you do stay in the city this long weekend, you'll be able to take in Bermuda – where basically every other local indie band that isn't at Golden West will be performing. On Thursday and Friday the primary venue is the Wunderbar, with soulful rockers Unwed Mothers being the feature performance on opening night. Friday includes Morals and punk-folkers Fire Next Time, whose multi-instrumentalists will also use a washboard and a saw to entertain the audience. Saturday there's both an early show and a late show at Wunderbar, with Pigeon Breeders, Ben Disaster, and Jung People featured in the afternoon; and then buzz artist Doug Hoyer, who's been mentioned on all the big blogs recently, Souvs, and local favourite Scenic Route To Alaska providing tunes late into the evening. Sunday also sees two shows; Diehatzu Hijets and Rhubarbs are featured in afternoon; and Ghost Cousin (who will undoubtedly be previewing material from their new album "Scotland," out August 21), and George Ireland and the Willy Nillies in the evening.
Monday afternoon at the Empress the festival concludes with Cam Boyce and Dustin Lambert, and another local favorite, Jessica Jalbert.
The third venue in the festival, The Baby Seal Club (10122 81 Avenue), will feature Switches and Chantrelles on Friday; and Stepmothers and Shooting Guns on Saturday. Tickets are $15 for the Wunderbar evening shows; $10 otherwise (except for the Empress gig, which is free). You can also buy a VIP wristband for the entire festival for $80 at Permanent Records.