Ben Folds to rock ESO a second time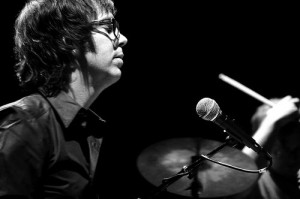 Maybe we can make Ben Folds playing with the Edmonton Symphony Orchestra a biennial event. The pop piano-meister will be back to wow his local fans a second time on Wednesday, May 21, 2014, at the Winspear Centre – less than two years after he came to Edmonton for the first time.
Tickets ($69 or $49) go on sale to the general public Aug. 20 (ESO subscribers get a pre-sale starting Aug. 13).
Having single-handedly – double-handedly – brought the humble piano into alternative rock back in 1997 or so (OK, Coldplay did some of the heavy lifting), Folds and his winsome, poignant, heart-tugging piano-rocking pop songs have since found a fertile home with symphony orchestras. And if you think the music critics were fawning over this guy already …
These are unlike the usual classical-rock shows where some popular band is plopped in front of an orchestra, which is often relegated to playing bad string lines in the background, or worse, just sitting there; the combination rarely works well. Folds, however, has been writing – sorry, "composing" – with symphony orchestras in mind for quite some time now, and always takes the care and attention to give his music the proper arrangements to make his songs – sorry, "pieces" – come to life in a grander setting. Folds himself compared rock bands working with orchestras to "bars that have wet T-shirt contests" – whatever that means – and he proceeded to explode the common outcome that rock bands and orchestras usually don't sound very good together. Folds makes his songs into mini piano concertos. His ESO show here in 2012 was just lovely, one of the best of the year: Elton John meets Burt Bacharach with cinematic anthems of life and death, love and heartbreak, you know, the usual deep grist. And the ESO, don't forget, has some experience working with rock bands, and in fact was a midwife to the birth of "symphonic rock" with groundbreaking performances and recordings with Procol Harum in 1972. As Folds explained to the audience, the trick isn't to get the rock band to join with the orchestra, it's to "turn the orchestra into the rock band."
At one point during the last show, Folds composed a song on the spot – bidding the various parts of the orchestra to repeat lines he played on the piano, building up the violins, violas, brass section, mariachi trumpet solos – tubular bells! – until the song turned into a Bolero-like crescendo topped with words he just made up. You don't see that every day. Once every two years, anyway.