MUSIC PREVIEW: Intercontinental mojo at blues fest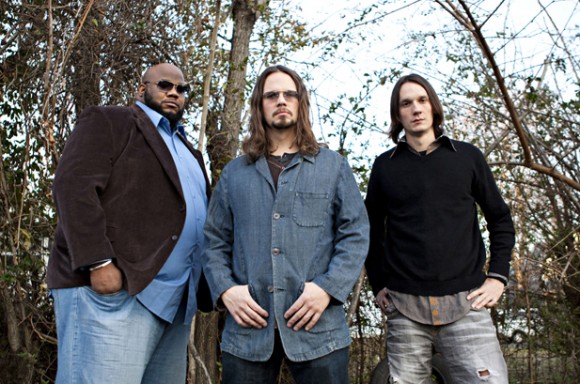 The Edmonton International Fringe Theatre Festival has taken over the city, absorbing any and all of the performing arts in its path. Nothing is safe, theatre, comedy, dance, not even music. A number of favorite local music venues have even been converted into what are known as "Bring Your Own Venue" theatres for the duration of oldest and largest theatre festival in North America, Aug. 15-25. Music fans shouldn't be too upset, though, as there are plenty of worthy selections this weekend – and Selena Gomez doesn't even get top billing! Most notably, Hawrelak Park hosts yet another music festival: the Edmonton Blues Festival Friday through Sunday. Weekend passes are sold out, single day tickets are still available, at the gate, for $50.
Blues is an intercontinental movement, for certain. For proof, look no further than Russian bluesman Arsen Shomakhov, who gets things underway Friday, leading into the Grammy winning Terrance Simien and the Zydeco Experience (from Louisiana), who first appeared at the festival in 2006. Headlining the evening is the legendary James Cotton (Mississippi) with Roomful Of Blues, both famous in their own right. Cotton played with Muddy Waters – as much a plum in blues as "played with Miles Davis" is in jazz.
Saturday gets underway at 2:30 with John Primer (Chicago), followed by the extraordinary harmonica player Big Pete van der Pluijm – from Holland! – famed UK guitarist Matt Schofield, leading into Mississippi's Homemade Jamz Blue Band by Café R&B, and ending the evening with the return of the Mannish Boys. The Los Angeles group is fairly young by blues standards – hence the name – but the members Kirk Fletcher, Paris Slim and Sugaray Rayford are making names for themselves, most recently for best album at the 2013 Blues Music Awards.
The festival's last day starts at 2:30 sharp with the extraordinary piano talents of Eden Brent (Mississippi), followed by MonkeyJunk (Ottawa), Yugoslavian-born guitarist Ana Popovic and the Golden State-Lone Star Revue (Texas, of course). Closing is the North Mississippi All Stars (pictured, above), with brothers Luther and Cody Dickinson, their first appearance at the festival. The All Stars, which has opened for people like Robert Plant and the Dave Matthews Band, combine blues with Southern rock in what is sure to be a fitting end to the annual intercontinental blues party in Edmonton.
Friday
Michale Graves – This punk singer-songwriter got his start as the vocalist for the 1990's reincarnation of The Misfits. After its demise he proceeded through a few other projects before launching a solo career, resulting in a number of album releases including a planned return to the more specific horror punk genre with "The Lost Skeleton Returns," funded through Kickstarter, sometime this year. A live preview should be interesting. Attack Addict and Chakobsa open. Pawn Shop, 8 pm, $20 advance.
Majical Cloudz – This Eastern Canadian act probably won't be flying under the radar for too much longer. The indie pop duo blends brilliant and bright keyboards with towering vocals as well as other instrumentation into a wall of wondrous sound, perform in the cozy confines of the Brixx Bar & Grill. Moon King is also on the bill. 8 pm, $12 advance
Saturday
Labradoodle – Just a couple of years young, and having just released their debut album in July, this act lives in a space that combines psych-rock with stoner rock, with a sludge cherry draped all over it. Your mom would hate this band – need we say more? Cold Cruiser also performs. Filthy McNasty's, 4 pm, no cover.
Selena Gomez – This 21-year-old ex-girlfriend of Justin Bieber got her start in Disney roles, first appearing in Barney & Friends, then The Suite Life Of Zack And Cody and Wizards Of Waverly Place. With such massive built-in marketing, her first major foray into music was a success as part of Selena Gomez and the Scene in 2009. Her debut solo album, "Stars Dance", was released in July of this year. Also on the bill will be Emblem3, Christina Grimmie. Rexall Place, 7pm. $26 and up at Ticketmaster
Last Horizon – This Sherwood Park metal quintet is releasing an eponymous EP, and they're hosting a party at Studio Music Foundation to do it. Full gear metal, with epic riffs, frenetic drumming, well, you know the routine. And lest that not be enough to tempt you, also performing are the thrashing yet melodic Skyline, along with Oceans On Fire, Submerge and These Colours Don't Run. 8 pm, $10 advance, $15 at the door.
Jerry Doucette – This Montreal-born classic rocker has a Juno on his fireplace in Tsawwassen, his now home, thanks to the 1979 Most Promising Group Of the Year award. Best known for his 1977 hit "Mama Let Him Play" off the album of the same name – in which he posits that there are some who are too young for the blues, being inside their first pairs of shoes – his sophomore release also sold well in Canada. Casino Yellowhead, 9 pm, no cover. You can also catch him Sunday, same time, at Casino Edmonton.