FRINGE: The madness of King Ludwig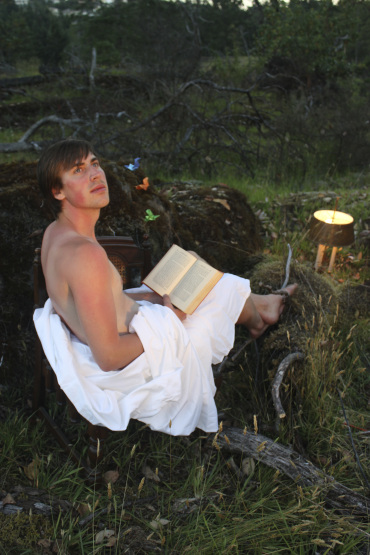 Calgarian Kyall Rakoz looks barely out of high school and he's already pulled off what should become a Fringe success with his one man show "Ludwig and Lohengrin." (Venue 10)
As playwright, director and star, Rakoz tackles the story of King Ludwig II of Bavaria, a controversial figure in German history, and not just because of his deposition from the throne – for mental incompetence – or the unusual circumstances surrounding his death shortly thereafter, but because nobody seemed to be able to figure him out. They called him the "Dream King" and the "Mad King."
This story in Ludwig and Lohengrin is unique because Ludwig himself is left out of it entirely. Others – politicians, paramours, family, friends, users and hangers on – shape our perception of the man. Many write him off a insane or drunk with power, having distanced himself from the intrigues of the German court due to a weak disposition or because he preferred to design an elaborate fantasy world for himself and his favorites, his whims and dreams being funded by the taxpayers – until some guys conspired to get rid of him, of course.
As we have seen a number of times in history, access to endless amount of cash had fueled the man's complete detachment from reality. When someone lives a life as privileged as this, a natural disconnect appears between the person considered privileged and everyone else, including those funding the insanity. It becomes really easy to see a figure like Ludwig as crazy, and just as easy to imagine his sense of being misunderstood.
So who was the real Ludwig? Seems he was a fan of Wagner, hence the reference to the Lohengrin opera, a theme not adequately explored in this piece, if there could be one criticism. Rakoz doesn't preach to the audience to believe one way or the other, although it is clear he is sympathetic to his subject. He doesn't make any assumptions about the motivations of the man. In fact, the biases and motivations of the figures characterizing Ludwig come to the fore through Rakoz's astute, on-the-ball acting ability. A simple and ingenious set together with a couple of basic props allows him to flip back and forth between the 10-plus different characters without missing much of a beat. Rakoz is propmaster and set designer, too. He's definitely someone to watch out for in the Canadian theatre scene.
RATING: PICK