FRINGE: Redheads have more fun!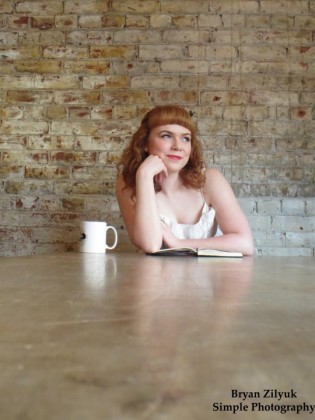 If you're not already a sucker for redheads, you will be after seeing Rebecca Perry in her creative and original one woman show "Confessions of a Redheaded Coffeeshop Girl" (Venue 42) at the Edmonton Fringe.
Perry plays Joanie, a 20-something girl stuck working at a Toronto area coffee shop and trying to figure out her life. Instead of letting her crappy job get her down, she decides she wants to focus on the positive and learn as much as she can about her surroundings. While some might think that the wisdom of ages flowing from Perry's tongue might be more consistent with the delusions of the young, it becomes clear as the play unfolds that maybe her heart does know after all. Being as cute and perky as she is, not even the most hard hearted cynics could take any satisfaction in seeing her character fall.
Perry does a stand-up job as Joanie, coming across as likeable, easily relatable, and most importantly, real. She also portrays some of the people in her life that include a former coke addict and the 300 pound brother of the coffeshop owner.
As Joanie compiles more stories, it seems clear life is passing her by. With a voice between Sarah Harmer and Serena Ryder, with Ken Brown on guitar accompaniment, she breaks into song intermittently throughout her urban adventure, hitting on Ella Fitzgerald and Rufus Wainwright to bring the emotional component to her journey. It's a pleasant way to break up the dramatic action. A flirtatious customer has been leaving notes in her tip jar, but she is too busy emulating her hero Jane Goodall to take it any further.
While a bit threadbare story-wise, Confessions is nonetheless an engaging, entertaining and insightful piece about the price of dreams and lost opportunities, with a message basic enough to be applicable across all age categories.
RATING: PICK!
(Photo by Brian Zilyuk)