SONIC BOOM: What's My Age Again?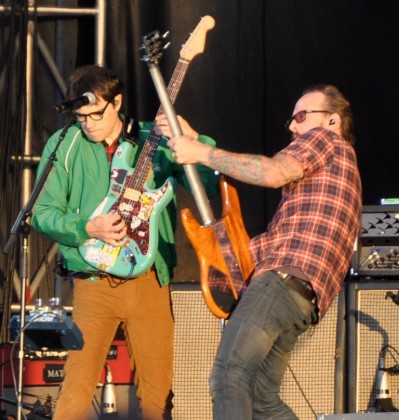 At what point does modern rock become classic?
You can be sure that none of the 13,000 fans at Northlands Park on Sunday evening were contemplating this pop culture question as two of modern rock's most geriatric acts Blink-182 and Weezer headlined Sonic Boom 2013. They were too busy rocking out.
Whatever the actual ages of band members – pushing 40, some of them from the other side – both acts demonstrated that the important thing in rock 'n' roll is what age you act.
Parlaying almost 20 years of vagina jokes, insipid lyrics, and instantly memorable, energy-laden melodies into massive commercial success, Blink-182 barely had to lift their guitars to cause fans to scream along and crowd surf into exhaustion. From the opener "Feeling This," guitarist and lead singer Thomas DeLonge could have just passed the microphone through the audience for the duration of their set – as every fan knew the all words and was intent on ensuring everyone around them knew them, too. The band continued their odes to underage fun with "Up All Night," "The Rock Show" and "What's My Age Again?", the question the band has long since been flipping off since they became millionaires playing the soundtrack to suburban teenage misadventures.
While his bandmates may look a little bloated, drummer Travis Barker didn't look like he had an ounce of extra meat on him – no wonder playing with the energy he does. He was a whirlwind to watch as he did his best Rush drummer impression, had Neil Peart been born in So-Cal around 1975 and been raised on the Ramones instead of the Who. Punk musicians are not generally known for their technical skill, but this guy is a machine and the true backbone of the band.
The medium continued to be the message in Blink-182, as teen rock anthems like "After Midnight", "When I Was Young", "Ghost on the Dancefloor", "I Miss You", "First Date" and "Reckless Abandon" assaulted youthful senses into fits of ongoing revelry unknown to anyone over 30. Blink-182's appearance at Sonic Boom could not have been more perfect fodder for all those going back school on Tuesday, and who needed one last reason to get their end of Edmonton summer aggressions out.
Capping 19 bands over two days, Weezer was the last band of the weekend to take the stage in sunlight Sunday evening, and the band looked no worse for the wear, keeping the spark for almost 90 minutes of modern-future-classic rock riffage. These guys are to geek rock what ZZ Top are to Southern rock, a name act with a solid catalog of classic tunes. The band whipped out "Hash Pipe" early on – a 12 year old song sounding just as fresh now as it did in 2001.
For such a nerdy bunch, Weezer are smart enough to know you can make lots of money playing songs to satisfy the party crowd, as they did on "We Are All On Drugs," "Beverly Hills," "Surf Wax America" and "Dope Nose." The tongue in cheek factor is not really the point with this band, which, simply put, knows how to rock. You'd never know by looking at them, but they've earned widespread commercial acclaim pumping this schtick for the last 20 years.
Their intelligence was bound to shine through later on in the set, with the wit of "(If You're Wondering If I Want You To) I Want You To," the sugar coated ode to nonconformity in "Pork and Beans" and the dopey '90s bubblegum charm of "Buddy Holly" and "Undone – The Sweater Song" drawing their evening's toil to a satisfying close.
There were more than a few "WTF moments" as Boston's indie rock sensations Passion Pit took the stage sans instruments to play a DJ set. Lead singer Michael Angelakos told the crowd that the airline had lost their instruments – but the show must go on. Thankfully someone had an Apple computer and an extra synth so we could all be entertained by some modern non-rock. Nobody seemed to care too much as it was hot and the lineup for the beer gardens ran all the way to 137th Avenue.
Sonic radio morning man Garner Andrews ended up introducing Vancouver's Mother Mother, plugging a Sonic promo contest to go party with the band somewhere. As Andrews astutely noted, the band does indeed have some fans in town, but it was hard to understand why given their plodding and uninteresting set, whose most engaging highlight was when they broke into a Nirvana tune, which kind of says it all.
As for Awolnation, they were more than presentable in their 50 minute set, copping the swirling, dirge laden riffs of the finest doom metal acts but packaging it in a format more palatable for the modern rock crowd. These guys deserve serious props for taking the cliche completely out of heavy music. One does not have to look metal to play metal.