MUSIC: The habits of Edmonton introverts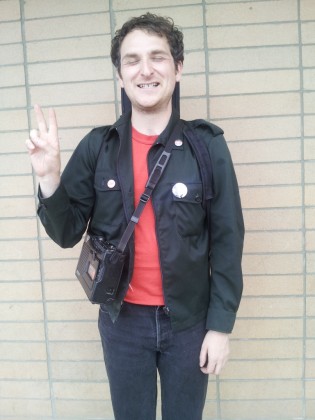 Even at North Country Fair – idyllic in its own happy, druggy, timeless way – Energetic Action felt like outsiders.
"North Country Fair was our Stonehenge," says bassist George Synnett (pictured) – and he's not referring to the famous scene in This Is Spinal Tap. He's talking about the famously strange Stonehenge Free Festival held at the famous monoliths in the '70s and '80s.
He adds, "North Country was one of the weirdest places I've ever been."
At this year's annual summer solstice music festival held near the shores of Lesser Slave Lake and known mainly for earthy, folky, hippie-friendly music, the Edmonton avant-garde punk rock band had been bumped from its scheduled time and wound up taking the stage around 4 a.m. A person in the crowd vomited, the band members recall – not only from the drugs and the booze, but from the strange sounds coming from the stage in what stretched into a two hour show. By the end, the band and its audience were either completely sober or out of their minds. Maybe a little of both.
They don't get a lot of bands like Energetic Action at the North Country Fair.
Back home, the foursome still feels like outsiders, even though its members were born and raised here. But Synnett and guitarist David Finkelman aren't into the geographical self-loathing that sometimes creeps into the lives of the citizens here.
"Some people try and be ironic about liking Edmonton, but I think I honestly like it," says Finkelman. "I've grown accustomed to even the worst things about this city, and you can't really wish for it to be any other way."
Edmonton is still in the throes of self-discovery – like someone from a small town moving to the big city for the first time and seeing all the possibilities.
"It seems like a city that sort of tries, but can't escape itself yet," Synnett says, posing another question about the notoriety of the city abroad: "Who talks about Edmonton that isn't from Edmonton?"
While the answer may be, "nobody," with local bands being able to take creative liberties, try new things and put themselves out there for all to see with no pressure or high expectations, it's an exciting time to be a band in this city.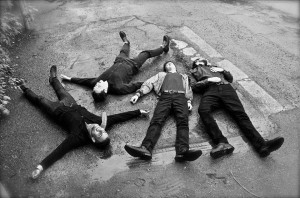 Finkelman and Synnett were both born at the now-obviously-haunted Charles Camsell Hospital to grow into patch-wearing punks, classmates in sleepy public schools in Ottewell. They played in local punk and hardcore bands in their teens, and were joined by drummer Robert Burkosky and singer Keaton Bassett two years ago, and Energetic Action took form. From their first show at King Edward Hall, which resulted in a blown fusebox, the band has taken their time to discover what the four are collectively capable of. The result is something you don't hear every day, even outside the North Country Fair: Punk rock that sounds like atonal jazz if you turned it down a bit.
Edmonton itself – from the long winters to the Sovietesque architecture to the isolation – has influenced the creative output of the band.
"Part of it is how bleak Edmonton is," Synnett says. "It's a very blue collar town, very long, cold winters. I think it does have quite a big effect on my musical and personal perspective on things."
With the dark tropes and introverted nature of Energetic Action, having to survive and flourish in a sometimes-unforgiving environment shows in the music. "Edmonton is an endurance test," Finkelman says. "And musically a lot of the things we do is based on endurance."
Even putting out their debut EP "Walls" two years ago was a test in endurance – more than a year in the making.
"Our early music was like the groans of someone enduring torture," Synnett says. "Very tough to play, very tough to listen to; but that bleakness is also an essential part of just being a person and existing."
Edmonton is both frustrating and divine. Public transit continues to improve, ever-so-slightly. There seems to be more trucks than people. Our river valley and green spaces are comforting, and we are physically exiled from almost all the urban creative centres on the continent. For bands in Edmonton, again, sometimes it isn't easy to build cohesion, to make a career. But it's also an opportunity to experiment, try things out and carve out another niche – another scene within the scene.
Energetic Action's new recording "Becoming" is now available – just in time for the impending frost.