MUSIC PREVIEW: Canadian country, California vibes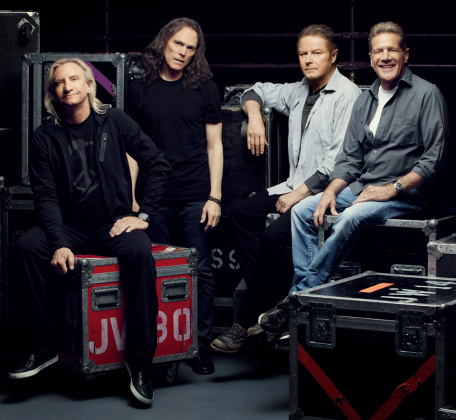 Welcome to the Hotel Edmontonia! Such a lovely place, such a lovely face. Plenty of room at the Hotel Edmontonia, any time of year … except maybe at this particular busy time if you've come into town for the Country Music Week!
Building up to the CCMA Awards Sunday night at Rexall Place – and setting the stage for the Eagles, which has some passing familiarity with American country music, Friday night hosts a couple of big country events. The first, in the Shoctor Theatre at the Citadel, is the CCMA Legends Show, with past Canadian Country Music Hall Of Fame inductees performing alongside up-and-coming artists. Performers include Carroll Baker, Harlan Smith, Jason Blaine,and Bobby Wills. Show at 7:30 pm, tickets are $40 plus service charges.
That same night, the honkin' honky tonk party of the CCMA Rock-N-Country Cabaret takes over Shaw Conference Centre, with country stars performing beloved hits nestled with classic rock covers. Scheduled performers include Tim Hus, Clayton Bellamy, Tim Hicks, Gord Bamford and Dallas Smith – who was the lead singer in the Nickelbackian rock band Default before "going country." Show starts at 8 pm, tickets are $25 plus service charges.
There will be a slew of incredible performances at the 31st annual awards on Sunday. Acts include The Band Perry, Hunter Hayes, Emerson Drive, Dallas Smith (again), Tim Hicks, and Deric Ruttan. After the 3 pm celebrity parade on the "green carpet," the show starts at 5 pm, and will be on CBC-TV by 8 pm. Tickets to attend the taping are still available. Wear your best honky-tonk fashion and smile! You may be on candid camera.
The Eagles
We stab them with our steely knives, but we just can't kill the Eagles – who are still going strong, give or take that 14 year hiatus – more than 40 years after defining, possibly inventing the genre of music that came to known as "soft rock." Peaceful, easy feelings are owned by this legendary band.
With so many iconic, generation-defining hits that would be pointless to list, the Eagles are performing at Rexall Place Monday night. The first show in Edmonton on the 1994 "Hell Freezes Over" tour was a little dodgy – like four guys taking turns doing their own thing – but the band has become more cohesive with every succeeding tour. Touring now behind the new "History of the Eagles" documentary, the chemistry is strong between the original members Glenn Frey and Don Henley, both of whom had quite successful solo careers during the band's hiatus, joined by Joe Walsh, who wasn't an original member but might as well have been, and finally, Timothy B. Schmit holding down the high harmonies. High expectations from a great band right here. The show is SOLD OUT.
Friday
Eyes On Ivan – This area folk act with a significant Maritime influence, due to being fronted by Owls Of Nature's Cory Dee, is about to release their debut album "Way Of the Fool." With Luke Thompson and Ian Mcintosh. Yellowhead Brewery, 7:30 pm, $15 advance, $20 at the door.
Villainizer – Fronted by a man named "Rob the Arab Villain," this local metal band is releasing its new album "Reign In Terror." Fuquored, Black Pestilence, Bloodreich and Meridian open this show. Pawn Shop, 8 pm, $10 advance.
Saturday
Vista Chino – This Los Angeles rock act was formed in 2010, and originally named by Kyuss Lives!, by John Garcia (vocals), Brant Bjork (drums) and Nick Oliveri (bass) – all previously from the band Kyuss. A lawsuit by other members of Kyuss resulted in the name change to Visto Chino. Their debut full-length is set for release this September. With Black Pussy and Black Mastiff. Starlite Room, 8 pm, advance $34 and up.
Sunday
Royal Canoe – This Winnipeg act gets out here a lot, back again performing at The Artery – along with J. Eygenraam and We Are the City – to support their newest album, "Today We're Believers." The sextet is a craftily assembled mix of summer pop and reverent folk music. 7 pm, $12 advance, $15 at the door
Monday
Bleached – While their famous fellow Californians perform at the Big Building across town, this Los Angeles sister duo mixes and matches surf rock with 70's punk and clever amounts of fuzz. Their debut album "Ride Your Heart" was released in April of this year. It doesn't matter who you are, you will not be able to avoid having an incredible amount of fun at this gig. With The Allovers. Pawn Shop, 8 pm, $15 advance, $18 at the door.
(With files from Mike Ross)