MUSIC: His name is trouble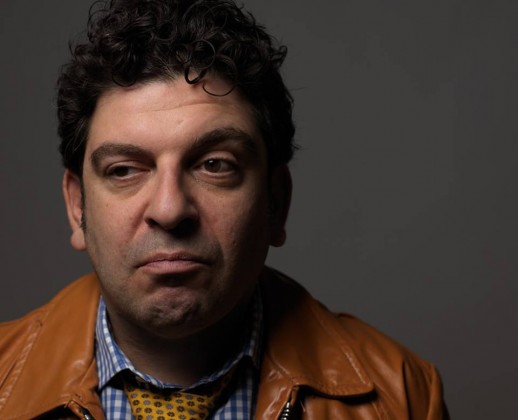 Ben Sures has a lot of family lore to draw from.
It starts at conception – said to be in Japan following a Beatles concert in 1966, "but I have never been able to confirm that," he says. His name translates from Yiddish as "Son of Trouble" – which he chose for the the title of his new album, a blues record that shows deep roots and rich humour in equal measure. The local release show is Friday, Sept. 13 at Festival Place.
His great-grandfather, Ben says, was probably tired and grumpy when they pulled into port in Nova Scotia in 1901, after a long journey from Russia. When asked his name by the border guard, he must've muttered "trouble" in his native tongue – and the family name has been a Yiddish joke ever since. This is just a theory.
This much is true, says Ben: His father, the famous artist Jack Sures (O.C.), was at a party with John Cage. They were kicking back at Emma Lake, part of the hip and happening arts scene in Saskatchewan back in the day. Apparently the New York composer got lost in the woods looking for magic mushrooms and Ben's dad formed a search party to find him. Cage was so grateful, Ben says, that he wrote letters of introduction for the Sures' upcoming trip to Japan – where they were wined and dined like royalty. Maybe that's where the Beatles tickets came from. No word on whether Cage got his 'shrooms.
It hardly seems necessary to add another unconfirmed story that Ben's grandfather was involved in the creation of Carmen Miranda's famous fruit hats, or that his maternal grandmother appeared in an Ozzy Osbourne video.
"It's in the family lore," Sures says.
The point of all this may be to illustrate that interesting ancestors make interesting footsteps to follow, and interesting artists to come out of them. Both of Ben Sures' parents are successful artists. Imagine having parental pressure to be an artist.
"The only pressure from my family is to make a living," Sures says. "If you can't, think about something else. I think they're proud of what I've done. They like when their friends say they heard me on the Irrelevant Show on CBC. My dad and his current wife have shown up CD release concerts with matching BS shirts. That's cute."
Benny the Jew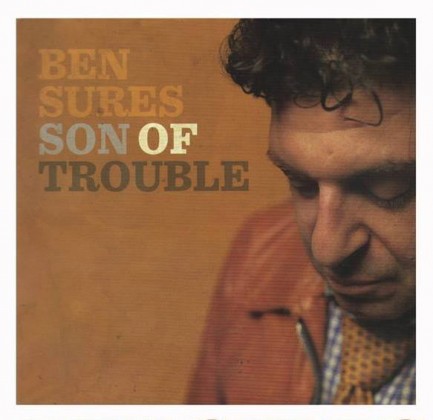 "Son of Trouble" is just the latest wrinkle in Sures' illustrious career. From his previous four records, his extensive work with other artists, his visual arts gigs (Artist-in-Residence at last year's Works Art and Design Festival; this year's curator of the Works' live music stage), his radio work and his live shows, there is little that is slapdash about this guy. He doesn't waste bullets, put it that way. His projects are carefully planned and executed, not to the point of predictability, but each move seemingly designed to showcase another facet of his personality. He even designs his own album covers.
So now he's a bluesman. Sure, why not? He sounds as good as anyone playing the blues around these parts. Better. More original.  "I'm Benny the Jew, the boy in the bubble, little Charlie Trouble," he sings on the brisk Chicago shuffle I Could Be Your Man. He's also a troubadour with a pompadour and Darth Vader with carburetor. The song is the perfect mix of irony and homage.
Shot through with real blues harmonica and more humour, the album is filled out by more shuffles, some grinding death dirges and a few esoteric journeys (there's also one Spanish track and one French track on the record). The one "political" song – such topics not often going well with the blues – deals with the "99 per cent" but references Wayne Gretzky, No. 99. It's funny, but it's not novelty. And the music sounds authentic enough, without having to put that dreaded "blues" label on it. Turns out Sures was introduced to Robert Johnson when he was 15 – and "I can still recall from memory half of his repertoire."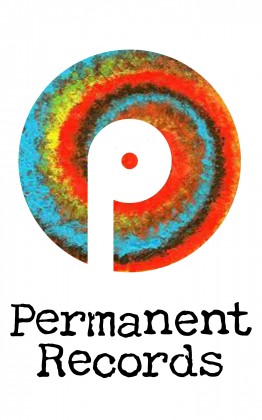 In making a record like this, what Sures says he wanted to avoid is the common practice of the bluesman who "adopts" the personality of what a bluesman is supposed to be, right down to the fake Mississippi accent from an Alberta boy.
"I can't do that," he says. "I'm just trying to be myself."
He says his culture is part of that, but the "Benny the Jew" line is satire meant to illustrate how people are often judged by such simple labels. He says he has been the target of some low level racism here and there, "curious but culturally insensitive" questions like, "Well, what are ya? Eye-talian?"
Sures says, "And nine out of 10 times, they'll say, 'oh you're Jewish. I knew a Jewish family. They were OK people.' It's this ignorant attitude, you've sort of been validated by the most narrow people. And people say things to me, especially in Alberta, I don't know why, maybe the Jews keep to themselves, and people will say, 'whoa, you eat bacon?' Yeah, I'm not wearing a hat, either."
Just don't call Son of Trouble a blues album. It's not. It's a Ben Sures album.
"I'm at the point where when I listen to music, if I hear I Django Reinhardt, I don't think jazz, I this is Django Reinhardt," he says. "And when I hear Neil Young, I think Neil Young, not, oh, this is rock music. Same with Muddy Waters. Hopefully when you listen to my music you hear my personality and the styles are more incidental. I hope the artist trumps the label."