Garage sale a big story during Country Music Week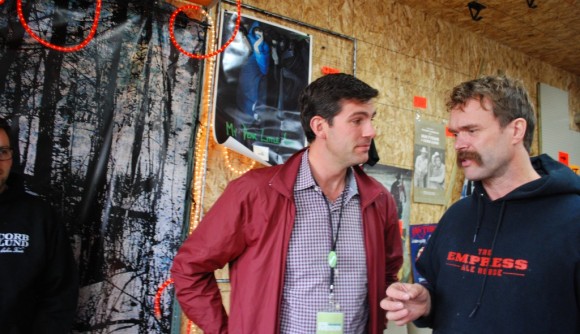 What a load of crap.
Edmonton is hosting the biggest Canadian country music event of the decade and all the cool kids can talk about is Corb Lund's garage sale. See, he's moving to Calgary, so he has a bunch of odds and ends to unload, T-shirts, promotional hockey pucks, custom comic books, you name it. Where are the spoon collections, derelict weed whackers and board games with missing pieces? There aren't any. It's a merch sale.
After a feature story in the Edmonton Journal for the most publicized garage sale ever, the hordes descended on Corb's Big Blue Garage in North Glenora. Fans were lined up around the block for hours on Friday, reports the proprietor. Camera trucks came from CTV, CBC and city, plus CMT – which is already here covering Country Music Week and the CCMA Awards at Rexall on Sunday. The Journal even did another story.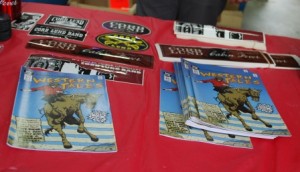 "It seems strange to me," agrees Lund, taking a little break on Saturday afternoon from preparations for his appearance at the CCMA awards, where he will be presenting the Rising Star Award. (He's got assistants handling the garage sale proper, but he pops in every now and then for a photo op.)
"Slow news day or what? I think it's a little more than I deserve."
Aw, shucks, in other words.
City councillor Don Iveson (above, with Corb) even stopped by to pick up a T-shirt for his four-year-old son Dexter. "He really likes T-shirts," Don said. Fun fact: The mayoral candidate stands an inch taller than the towering soon-to-not-be-local-anymore country star. They grow them big around these parts.
People traveled here from as far away as Oregon, Lund says, one group even having planned their vacation around his garage sale. By Saturday mid-afternoon in the drizzle, the crowds were starting to pick up again.
CCMAs? What CCMAs? There's got to be a song in there somewhere.
The 31st annual CCMA Awards happens on Sunday at 5 pm in Rexall Place (tickets are still available). Acts include The Band Perry, Hunter Hayes, Emerson Drive, Dallas Smith, Tim Hicks and Deric Ruttan. The show will air on CBC-TV at 8 pm. Corb Lund's garage sale runs until Sunday at 4 p.m. in the alley behind his house at 13323 107A Avenue, which is also for sale.
Standing apart from the hot Nashvillian country generally represented by the Canadian Country Music Association, Lund is nonetheless a 10-time CCMA winner. (UPDATE Sept. 8): Make that 11 time CCMA winner – he won another trophy for Roots Artist/Group of the Year at Saturday's pre-awards dinner gala. The trophies are not for sale.