Kaleido balloons into major Edmonton festival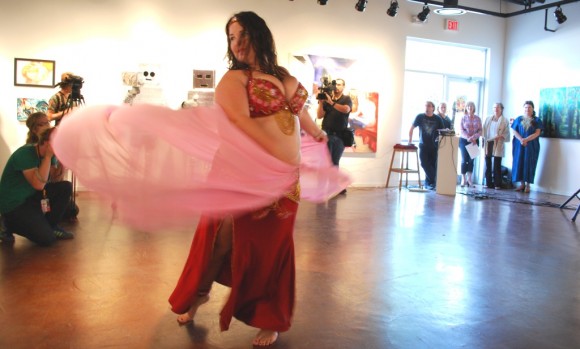 If you were driving down 118th Avenue on Monday afternoon, you might have spotted clowns, mimes and tin foil robots, a Renaissance flautist in full regalia, along with Ukrainian dancers and Cuban dancers and belly dancers and ballet dancers and God knows what else.
It could be only one thing, of course: The annual media conference for the Kaleido Family Arts Festival, happening Sept. 13-15 along Alberta Avenue and its environs. This is nothing compared to what the place is going to look like on the weekend.
Much more than just a collection of random events stuck under a "festival" umbrella (new rule: part of your event must be outside to qualify as a "festival"), Kaleido has ballooned into a big deal. They say they have 300 different acts so casually. Did we hear that right – 300?! That's more than there were Fringe plays. They block off the streets between 90 and 94 Streets for live music, dance, theatre, drive-in movies, parties, mimes, clowns, performance artists, puppets, art, film, have we left anything out? – eclectic entertainment so multi-disciplinary, so multicultural, so family-friendly and so wholesome that might get the urge to stock up on organic granola and start recycling.
In short, Edmonton's last proper festival of the summer takes place in the "Artsiest Neighbourhood in Town." Old Strathcona lost that title a long time ago.
For the assembled media covering this like any of Edmonton's giant festivals that started as community events, founder and unofficial mayor of Alberta Avenue Christy Morin talked about how Kaleido was hatched in her kitchen eight years ago. She and seven friends gathered to talk about "this neighbourhood that everyone didn't quite understand," which had recently shed its reputation as prostitute's row and at the time turned out have a quite a lot of artists living there. Alberta Avenue had already been Edmonton's most multi-cultural neighbourhood. From African grocery stores to Hungarian butchers, retailers from dozens of cultures still ply their trade along the once dodgy 118th Avenue – and dozens of cultures will be represented in a breathless three days of arts and entertainment at Kaleido. Every year, says Morin, there are more local artists wanting to get involved, and they're happy to have them because they have lots of room to spread out.
"Since we're a community arts festival, we really wanted to reflect the community," says Morin, adding, "But this has really become an Edmonton festival."