TV PERSONALITY: Ryan Jespersen and the Lake of Fire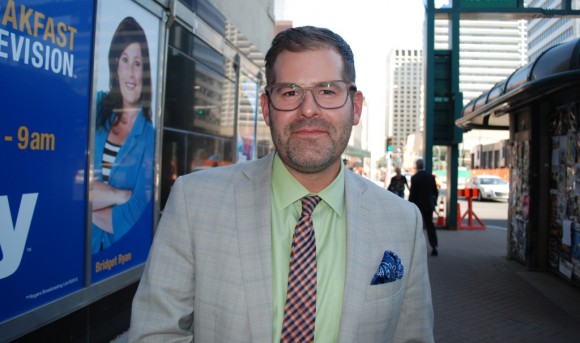 Talk turns to gay rights within the first two minutes of a recent interview with Ryan Jespersen. Raised Christian in Calgary, the chatty Breakfast Television host got his journalism training at Trinity Western University in Langley, B.C., a Christian college that required its students to sign abstinence pledges that included a specific clause pertaining to homosexuality.
Jespersen signed it – as "Donald Duck" – and went onto an illustrious student journalism career. As editor of the college paper, he reported on crimes, cover-ups, controversy and at one point was threatened with legal action, he says. From J-school, he was hired straight to the Calgary Herald – which almost never happens because you usually have to pay your dues at the Weekly Shopper in Wetaskiwin – and came to Edmonton seven years ago.
And here we are.
"It was an interesting school experience for me," the 36-year-old television host says over lunch at the "Hat Resto" (the urban evolution of the Silk Hat greasy spoon) across from city TV studios. "I would describe my personal conviction and social perspective as more left leaning." As for being a good Christian, he says later, with a laugh, "I should be careful. I have a great deal of respect for people who live with a great deal of conviction, but within that community I would be described as right in the middle of backsliding."
His sister, his cousin and his uncle are gay, he says, so "one element of my journey is coming to find my own series of beliefs and convictions, not just what I understood them to be because I was taught them as a child."
Little did Danielle Smith know what she was in for during a BT "Cooking Breakfast with the Candidates" segment that aired last year. It was a week before the election, and just a day after an old blog post by Wildrose candidate Allan Huntsberger came to light. He's a Christian, too. Homosexuals shall be "doomed to the lake of fire for all eternity," the former pastor had written, or words to that effect. Jespersen took personal issue. He mercilessly – if pleasantly – grilled the Wildrose leader, as she was wearing an APRON, for God's sake, on why she didn't get rid of Huntsberger. Her explanation, defending religious freedoms and maintaining "we will not legislate on contentious social matters," didn't sit right with Jespersen. They kept at it – and never got around to making breakfast.
It was one of the most delightfully awkward moments ever seen on local morning television. Smith cancelled the rest of her interviews that week, Jespersen says, and we all know what happened next. How ironic: A man who was taught about hell at as a boy may have played a tiny part in helping cast the Wildrose Party into the proverbial lake of fire – though they probably would've lost the election anyway.
News with opinion
Breakfast Television is no ordinary morning television show – it never has been – and Jespersen is no ordinary morning television host. With reporter Bridget Ryan and others on the BT team, both the touch and much of the content here is as light as a feather. Mixed with the usual breezy news-weather-traffic-sports are ad-lib segments on hot button topics like twerking or flying frogs, and interviews with visiting entertainers. The health benefits of masturbation were discussed at 7 a.m. one morning; Jespersen poured milk on his head at another time because it was apparently an Internet thing, and in another show got into the ring with a real Maximum Fighter to see how hard it could be. Long story short: It's hard.
He says, "I felt light headed for two days. I could barely walk. He manhandled me, he bent me like a pretzel – I hope to the delight of our audience."
That is the goal of such shows, of course: To please the audience, to inform and entertain without offending too much. Once in a while the host gets to ask the sort of hardball questions he trained for. Inspired to become a journalist by boyhood heroes like Walter Cronkite and Peter Jennings (names not usually seen on lists of boyhood heroes), aspiring to be a trusted newsman, Jespersen relishes the chance to tackle important issues. While he could pass for one of these born anchormen with perfect teeth and the gift of gab, he sees himself as someone who does more than merely read the news, but one who can dissect, understand and interpret it, and ask the questions viewers are dying to ask. In short, he's a bullshit detector, though he's so nice about it he doesn't even use the word "bullshit."
Demonstrating his bipartisan attitude, Jespersen says, "I have called BS before, and I will continue to do it. I got into it with mayoral candidates before, people from the Canadian Taxpayers Federation, environmentalists and oil companies. There's BS coming at you from all sides. Let me rephrase that: There's propaganda coming at you from all sides. That's the problem."
He adds, "What use is someone in my position without an opinion?"
Man about town
Jespersen has cut a wide swath through Edmonton's media and social scene in his tenure as BT host. He's married to 99 Up! FM morning announcer Kari Skelton; they met as competing journalists in Red Deer before both came to Edmonton, where in 2012 they were voted one of Edmonton's "power couples" by Avenue magazine. Like anyone who expresses opinion with conviction – a trait he admires in others, even Ezra Levant – Jespersen gets the odd piece of "inspired viewer feedback, some people call it hate mail." One said he "reeks of intellectual elitism," would be better suited to a market like Toronto or Vancouver and that he couldn't possibly relate to hard-working Albertans. He wonders if this is much a slam against Edmonton as himself: "What am I if not a hard working Albertan? Who are you? What are you talking about? And what are you saying about the city you claim to represent, that we can't think things out like they can in Toronto? I love being underestimated."
Some of the skills that allow him to host a show like BT, he says, have nothing to do with broadcasting. Showing a knack and an admiration for stand-up comedy (while his brother is an award-winning actor in Vancouver), he's emceed more than 60 weddings, some for couples he barely knows, and learned how to work a crowd. He spent a summer in Ottawa selling educational books door to door, and learned how to work customers.
"It was defeating, brow-beating, confidence-shattering, exhausting work," he says. "But it was incredible to understand how to relate to people, how to establish credibility on the street by using the names of the next door neighbours you just talked to, to get Mrs. Jones to trust you enough to show the books to her, to identify her needs, to understand where a void would exist with a certain family in their study routines. To create a need and then fill that need – that's essentially what we're doing in broadcasting, too. I would say I use skills from selling books door to door every single day on our show."
As for the future beyond being the early morning Larry King of Edmonton? Difficult question. "I would never want to work anywhere but Breakfast Television," he declares with a grin. Asked about the natural connection between journalism and politics, he says he'd make a terrible politician because "there are too many photos out there."
Talk turns to Edmonton, and how one could become such a man-about-town in just seven years. While Jespersen claims he noticed right away that this city is "culturally richer" than Calgary, quickly adding he doesn't want to start any arguments, he's also seen the deep-seated inferiority complex many Edmontonians suffer from. It's a "good place to be from" as famous local punk rocker Jerry Woods put it. The most famous Edmontonian Jespersen can name is Marshall McLuhan, followed closely by k.d. lang, who in her early career suffered homophobia around here – not to mention a grilling from the beef industry for a famous PETA ad – and wound up moving away.
Jespersen jokes, "I'm waiting for two high profile federal conservative cabinet ministers to come out of the closet and I want to see how it rattles people's cages."
So we look forward to future editions of Cooking with the Candidates.