MUSIC PREVIEW: Home for a Party!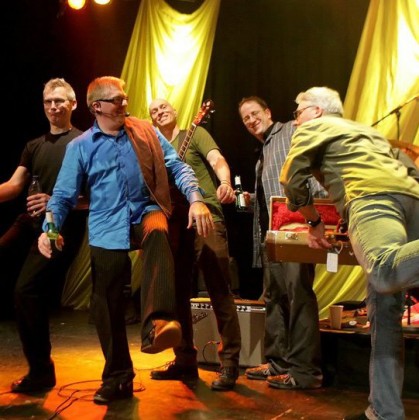 Here's the perfect verse for the end of summer: "You'll have to excuse me, I'm not at my best. I've been gone for a month, I've been drunk since I left. These so-called vacations will soon be my death. I'm so sick from the drink I need home for a rest."
Most music fans of a certain age probably remember that. Probably heard it at a friend's house. At a party. In their own home. In their car. And with any luck, you probably saw Spirit Of the West perform it live. And what a live show! This hugely successful band lambasted crowds with their party-folk-rock until the wee hours of the morning. No matter how "cool" you wanted to be, you'd find yourself out on the dance floor, screaming the lyrics with everyone else in the place – then find yourself too sore to move, or talk, the next morning.
Aside from "Home for a Rest," the biting "Political" was Spirit's other seminal hit. To this day, while their popularity has never reached the zenith of those early '90s days, the band's creative juices continue to flow, with two more albums recorded in the 2000's after a seven-year hiatus, and one of the most successful alternative bands in Canada continues to tour just as strongly.
See for yourself this Friday, as Spirit of the West performs in Fort Saskatchewan at the Shell Theatre in the Dow Centennial Centre (7:30). You should go. It's not as near as far as you think. Tickets, from $31, are still available, and in fact you can grab 2-for-1 tickets via ticketpro.ca using the promo code sotwfan.
Friday
Keep 6 – Part of the CJSR fall "fun drive," this local hard rock act headlines a gig at Studio Music Foundation; also performing are Alkatine, Five Years Further, and Grounded Star. 7 pm, $10 at the door.
Tattered – This Olds metal act is one of three performing at the Brixx downtown. The others are Camrose's Joe Solo, and Hearsay. 9 pm.
Saturday
Switchmen – CJSR's fundraising efforts continue with this local blues-country act headlining a lineup that also includes bluegrass-funk The Misery Mountain Boys, The Moanin' After and Mike McDonald of Jr. Gone Wild. Pawn Shop, 8 pm, $10 advance
Los Calaveras – What kind of surf rock band lives in a landlocked city like Edmonton? This band will provide that answer. With the Suppliers and Fronts. Brixx, 9 pm, SOLD OUT.
Sunday
Rock For Dimes – One of the following acts will leave this evening anointed with the title "Best Amateur Band": Josh Sahunta, A Hundred Years, The McGowan Family Band, Young Progression, Basler, Fear Of City, and Death By Metal. Judges of the performing acts include Brennan McFaul (Trixstar Productions), Chris Schoengut (Trixstar/entrepreneur) and MLA Kent Hehr. Comedian Danny Martinello will perform host duties. The event is a fundraiser for Edmontonians with physical disabilities, as well as the post-polio support group. Pawn Shop, 6 pm, $15.
Zac Brown Band – This country-folk act from Atlanta has recorded five full-lengths, and amassed 55 various award nominations from such prestigious events as the Grammies, Academy Of Country Music, and the like. The band has topped the U.S. country charts any number of times, first in 2008 with "Chicken Fried"; and most recently in 2011 with "Keep Me In Mind." While their fame has been mostly south of the border, local fans are always excited to have them come visit Edmonton, and in fact the only seats still remaining are behind the stage. Rexall Place, 7 pm, $41.50 and up plus service charges.
Iron & Wine – The solo project of South Carolina's Samuel Beam, singer-songwriter extraordinaire who first signed to legendary label Sub Pop and released a solo effort in 2002, performing, recording, and producing the entire album by himself in his home studio. He's only gone onto greater things since then, combining a haunting, endearing voice with impeccable songwriting skills, and a captivating talent for memorable folk tunes. Winspear Centre, 7:30, extremely limited seating left, from $27 plus service charges.
Young Galaxy – This Vancouver dreampop act has been getting excellent buzz the last couple of years, and are touring to support their April release "Ultramarine," which is on the shortlist for the Polaris Music Prize, which will be handed out on Monday, Sept. 23. Human Human also perform. Avenue Theatre, 8pm, $15.
Tuesday, Sept. 24
Frightened Rabbit – This act out of Selkirk, Scotland, also arrives in the city on a tsunami of buzz, with a widely anticipated gig at Union Hall on this night. Currently touring to support their fourth album, "Pedestrian Verse," the band's guitar-centric folk-rock crunch is balanced by emotionally-wrought songwriting, and the incredible vocals from frontman Scott Hutchison. 7 pm, $25 advance.