Does public art improve life for Edmonton's homeless?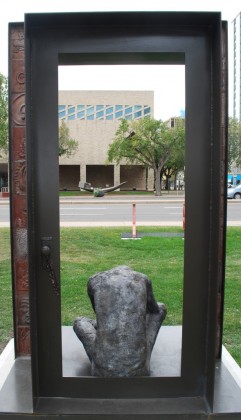 Answering a simple question – what do homeless people think of public art? – was fraught with difficult and humbling emotions.
I recently interviewed a number of Edmonton street people who turned out to be so sharp that the question should've been: Why in God's name are you homeless?! The stories vary: Poverty, alcoholism, mental illness, choice, and for most in this situation, every day is a challenge to survive. Yet this is a tight-knit community. Everyone seems to know each other, held together with the sort of mutual respect and dignity you sometimes don't see in more "upscale" communities. Homeless people don't have much, but they have their pride – and they do not need some idiot with a tape recorder coming onto their turf asking stupid questions, "Excuse me, you look homeless, what do you think of the aesthetic qualities of that weird metal boat thing in front of City Hall?"
Mark Holmgren, CEO of the Bissell Centre that is the central town square for Edmonton's homeless and low-income population, says, "My sense is that people who are struggling get by day to day don't have much time to think about public art. It doesn't mean we shouldn't have it, it doesn't mean that low income people don't have an appreciation for it, but most of them have more important things to worry about."
Still, these are the citizens who see public art in downtown Edmonton more than anyone because they live here – murals, sculptures, installations, gardens, graffiti walls – and no one has ever asked them if they like it.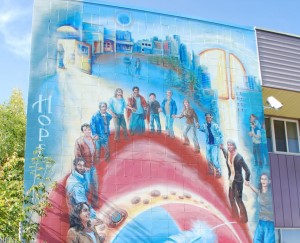 A middle-aged woman named Joan – who recently lost her accommodations and has to get around with a walker – is one of several aboriginal people who specifically praise the "Round Dance" mural (107 Avenue and 95 Street), depicting legendary homeless advocate Hope Hunter and part of the Giants of Edmonton series. Forty six percent of Edmonton's homeless people are aboriginal, according to a 2012 count by Homeward Trust Edmonton, a not-for-profit organization that fights homelessness. The Bissell Centre has an aboriginal mural on its side. Of Hope Hunter, Joan says, "She worked for years at the Boyle Street Co-op. She's done a lot for us people … And I like the inukshuk with the little boy that saved the pilot, because I'm from the Northwest Territories, and I can feel for what the little kid had to go through. I know the history."
Up 96 Street near the Mustard Seed Church, I meet a man who gives his name as Lorne – we're all on a first name basis around here – who says, "I like to look at murals. They should be doing that on a lot of buildings. That Lois Hole painting, I remember looking at that a couple of times. That's a nice one. I'm not much into art, but I notice big murals."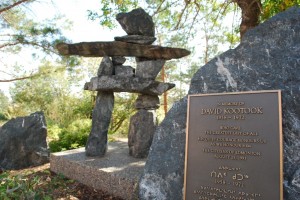 One of the most contentious pieces of public art unveiled recently is known in the area as the "Homeless Statue." Located near the CN Tower, the $40,000 memorial sculpture depicts a wretched figure huddled in a doorway. Edmonton anti-poverty crusader Jim Gurnett, who spearheaded the project with sculptors Keith Turnbull and Ritchie Velthius, said it is meant "to remind Edmontonians always about our shared responsibility to end homelessness."
Homeless people don't like it.
"That one seems very, very cold," says a young homeless man named Trevor. "It'd be cold sitting there like that."
Vance, an older man who has been able to maintain a roof over his head and hangs out here every day to be with his "bros," says, "Why would you make something for the homeless like that? You should make some houses instead of putting up a fucking statue."
The issue that that art money could be better spent elsewhere comes up a few times. Like almost every Edmontonian, several homeless people complain about the $600,000 spent on the Talus Dome, though it's unlikely many of its harshest critics have even seen that infamous pile of silver balls up close.
It has been estimated that each homeless person costs about $100,000 a year to manage, counting accommodations, food, clothing, health care and various programs. There are 2,174 individuals "identified as being homeless" in Edmonton, according to that 2012 Homeward Trust study (about a third less than the 2008 homeless count). In a recent Edmonton Journal story, Edmonton East MP Peter Goldring claims the 100 grand figure is inflated, but even if it were half, not only would it be enough to easily sustain an individual, but the sum would still dwarf the amount spent on public art. It has been said before: You can't get rid of poverty by spending money on poor people.
Incidentally, one of the favourite pieces of public artwork in this community turns out to be the graffiti wall along the tunnel where the LRT emerges from the underground – a splendid, sprawling riot of colour, form and message – and it didn't cost a dime.
An aboriginal woman who gives her name as "Sugar" is in a sunny mood when approached one morning (large double-doubles help break the ice). She says she has no problem with the money being spent on public art, and of all the murals, sculptures, installations, gardens and graffiti walls in this area, says simply, "They're beautiful. They make me feel good."
That has to count for something.