MUSIC PREVIEW: It's not the band I hate, it's their fans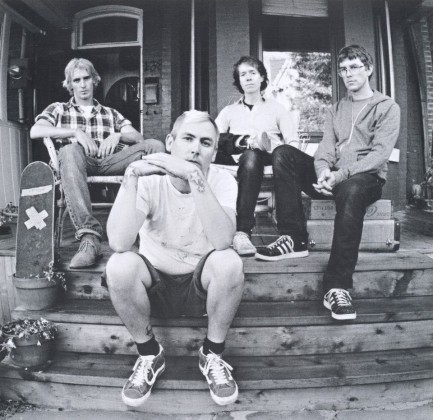 Pop quiz: Name the album that was voted the No. 1 Canadian album OF ALL TIME by respondents to a Chart magazine poll.
The answer may surprise any but true Sloan fans – and there are lot of them, an entire generation moved by the iconic Toronto quartet's ground-breaking 1994 album "Twice Removed," which contains the most incisive rock lyric of all time: "It's not the band I hate, it's their fans." So typically Canadian, eh?
Playing the Arden Theatre in St. Albert on Friday evening, the band brings more than 20 years of material and live experience to the stage. While like the Tragically Hip, none of Sloan's songs have charted significantly in the United States, Canadian fans don't care. Loyal to a fault, they come out in droves every time the band assembles a tour of the country. With good reason. Sloan's stage shows are thunderous events, walls of sound cascading through the room in an evening rich in one quirky, catchy hit after another. The best include Underwhelmed – the Canadian answer to Smells Like Teen Spirit – along with The Good in Everyone, Money City Maniacs and The Other Man, the latter a great song about being the odd man out in a love triangle: "No one's rooting for me. If I'm the other man, nature will abhor me."
The original four founding members remain a part of the group to this day. Chris Murphy and Andrew Scott met at the Nova Scotia College of Art And Design in Halifax, with Patrick Penland and Jay Ferguson joining shortly thereafter. The rest is history.
Doors are at 7:30, with opening act Mo Kenney. Tickets are still available, $38 plus service charges.
Friday
Rose Cousins – This Halifax singer-songwriter tends towards the country end of the spectrum, and has done work with Joel Plaskett, Jill Barber, and Meaghan Smith. She's currently touring to support her 2012 release "We Have Made A Spark". Rachel Sermanni opens. Avenue Theatre, 8 pm, $20 advance, $20 advance, $24 at the door.
B.A. Johnston – Some call this Hamiltonian a "modern day folk troubadour", while others have dubbed him a retro-rocker. Maybe he's both, touring to support his ninth album "Mission Accomplished", which features such witty ditties as "As I Am In Tim Hortons I Realize I Hate Tim Hortons", and "I Feel Like Wesley Snipes". Krang and Strugglefucks open. Wunderbar, 9 pm.
Unwed Mothers – Local ALTERNATIVE radio station Sonic 102.9 (they've recently dumped the "modern rock" label) has rebooted its Band of the Month program for the 2013-14 season – and this local blues-influenced-alt-rock act is the beneficiary of September, headlining a lineup that also includes Thompson Highway and Hungry Hollow. Starlite Room, 9 pm, tickets are $9.
Saturday
Eamon McGrath – This local blues/punk artist is one of those special breed of musicians who'll work their fingers to the bone for their craft, and then let the blood seep onto the guitar strings just to see what it'll sound like. Stepmothers and Eyes On Ivan open. Avenue Theatre, 8 pm, $10 advance, $12 at the door.
Sunday
Andy Shauf – This Regina-based experimental rocker with significant folk influences headlines a show that also features acclaimed local artist Jessica Jalbert, who can perform magic with a guitar. Artery, 7:30, $8 advance, $10 at the door.
Monday, Sept. 30
Five Finger Death Punch – This Los Angeles-based heavy metal act, founded in 2005, explodes their way into the Shaw Conference Centre Monday night. They are in the midst of releasing a "double album". "The Wrong Side of Heaven and the Righteous Side of Hell, Volume 1" was released in February. The companion album, Volume 2, should be out in November. The band's previous two albums are both certified gold in Canada, and they have a very solid following in the region, so tickets are moving pretty briskly but are still available. Doors at 6:30 pm, $36.75 plus service charges.
No Joy – Popular among music bloggers, this shoegaze act out of Montreal's hot scene is touring to support its newest effort, "Wait To Pleasure". Don't be surprised to see it in a number of year-end top-ten lists. Alex Calder and Vertigo open. Pawn Shop, 8 pm, $10 advance.
Tuesday, Oct. 1
Indigo Girls – This venerable folk duo from Atlanta, at the Arden Theatre on this night, has been recording and touring since 1987, and while they haven't had a lot of hit singles during the time, they don't need them. Their albums always sell very well on both sides of the border and their fan base is one of the most loyal in the business. No surprise, the show is SOLD OUT.
(With files from Mike Ross)