EIFF REVIEW: The Auctioneer like an Alberta landscape painting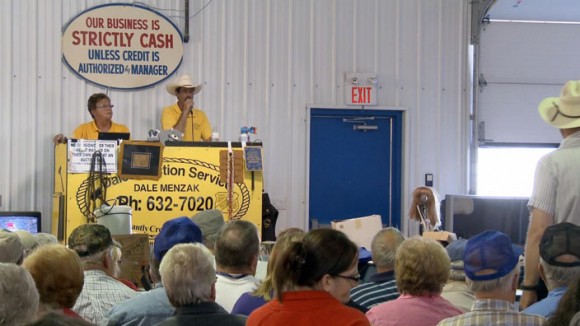 Farm equipment doesn't fetch much money at auctions these days.
As Hans Olson's languid but visually beautiful documentary The Auctioneer suggests, the family farm is dying out on the Prairies, and with the surging popularity of the Internet as a buying and selling source, so is auctioneering. Thus we see Vegreville auctioneer Dale Menzak also working as a funeral director. His garage houses a hearse alongside a John Deere tractor.
Ah, the metaphor!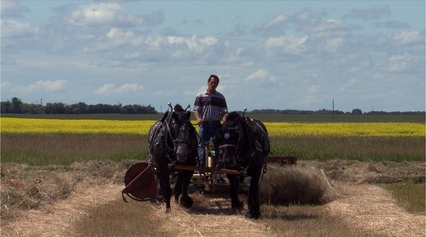 Following Menzak as he arranges to sell the contents of a family farm no longer wanted by the young owner – a common story – The Auctioneer is helmed in the minimalistic style of Direct Cinema. There is no narrator, no musical soundtrack. Dialogue and visuals carry the story. Once a take is set up, the camera doesn't move. Almost the entire film is seen from fixed camera viewpoints – a slice of contemporary Alberta rural life exquisitely filmed with expertly lit, well-composed shots by cinematographer Mike McLaughlin.
What the viewer sees is Menzak going about his day punctuated by a series of compelling images of rural and small town sights into which people (chatting and doing things) move in and out of frame. There's an eye for detail in this film, a sense of time and place. Lingering landscape shots are carefully crafted, like a master painter dividing his canvas into golden thirds to better display objects of interest. Watch, too, the outdoor scenes as the horizon is almost always at the two-thirds or one-third height of the frame, depending on the intimacy of the mood.
As The Auctioneer moves rather slowly and quietly across the screen, its images – as beautifully captured as they are – seem at times almost too perfect. Too safe. This isn't a film that takes many risks (apart from shooting in the Direct Cinema style).
However, the film's sincerity in portraying the people and places of rural Alberta life cannot be denied. Menzak comes across as a very likeable character.
The reliance of static camera viewpoints may become boring at times for certain viewers unaccustomed to the style. This is art with an Alberta sensibility, but a film that demands active participation. You really have to pay attention!
The Auctioneer screens at 7 p.m. Monday, Sept. 30 at Empire City Centre 9 as part of the Edmonton International Film Festival.